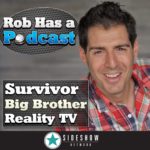 CLICK to Subscribe to Rob Has a Podcast on iTunes[/caption]
Rob Cesternino is with the latest Survivor Blood vs Water exit interviews, this time talking to the latest TWO players eliminated from the game.
John Cody:
How does John feel to be a fellow Survivor player like his wife Candice?
Did John ever get so hungry that he thought about eating paper on Redemption Island?
How awkward was it when Brad Culpepper joined Brad and Candice on Redemption Island?
Did John feel like the Redemption Island challenge was biased for a woman to win?
Laura Boneham:
Was it worth it for Laura to take Rupert's spot in the game?
Rupert had mentioned on twitter earlier in the season that Laura had a good alliance going, who was in Laura's pre-swap alliance?
Was there anybody that Laura felt particularly betrayed by when the tribe kept Vytas over her?
Does Laura have any hard feelings towards Vytas after she talked about how great he was during the game?
Why did John Cody exit after her when she in the challenge longer than he was?
Subscription Links:
Subscribe to RHAP (All Shows) on iTunes:     RobHasAwebsite.com/iTunes
Subscribe to RHAP (All Shows) on Stitcher:     RobHasAwebsite.com/Stitcher
Subscribe to RHAP (All Shows) on Soundcloud:     RobHasAwebsite.com/Soundcloud
Subscribe to RHAP (All Shows) on YouTube:     RobHasAwebsite.com/Youtube
Watch this Week's Episode of Survivor Know-It-Alls: