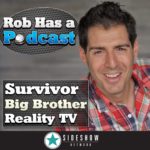 CLICK to Subscribe to Rob Has a Podcast on iTunes[/caption]
On the final Thursday before the Survivor Blood vs Water finale, Rob Cesternino has another jam packed episode of Rob Has a Podcast to get you through to Sunday night.  On this week's episode, Rob visits with Shane Powers (@TheShanePowers) and then listens to your voicemails with Jeff Pitman (@TrueDorkTimes) from TrueDorktimes.com
Shane Powers
Rob met up with Shane at his girlfriend's house to talk with Shane Powers in person.  Shane hadn't watched many seasons of Survivor since Survivor Panama, but Shane was interested to see Aras this season and watch the Blood vs. Water twist play out.
Shane discusses a number of topics in the conversation with Rob, but here are just a few of the things that were covered:
Why does Shane Power feel like he would never be friends with Gervase?
Was Shane ever considered to be on Survivor Blood vs Water?
Would Shane ever be able to vote against his son, Boston, if they were on a season like this?
Which player(s) from this season does Shane think are incredibly attractive?
What would Shane tell Monica to get her to win in the final 3 against Gervase and Tyson?
What does Shane think of the Redemption Island twist?
What did Shane have to say about Aras' game this season?
Why does Shane relate to Vytas so much?
Why is Shane fired up about talking about Lex and Boston Rob this week?  Read his recent blog about this.
Which player most reminds Shane of Courtney Merit?
Why does Shane have such a love/hate relationship with the show
Its the wildest Survivor interview of the season and one you don't want to miss.
LISTEN TO SHANE POWERS' ORIGINAL APPEARANCE ON ROB HAS A PODCAST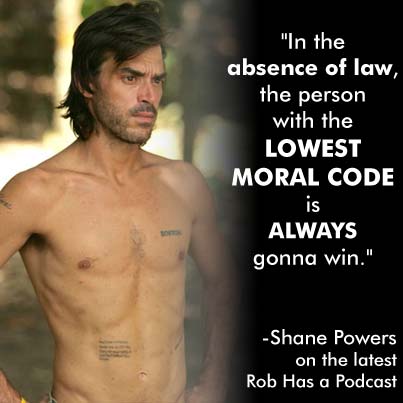 Jeff Pitman Answers Your Voicemail Questions (1:24:55)
Rob Cesternino welcomes Jeff Pitman back to the show to answer your voicemails and talk about the week in Survivor.  Rob and Jeff begin by discussing their appreciation for good of a season its been when they both had low expectations for Survivor 27.  Jeff has been especially fond of Tyson and hopes that he wins the game this weekend.
Rob and Jeff discuss many of the questions raised by the callers on voicemail including: What changes has Tyson made to his game?  Why are so many Survivor players being called out this season?  Why would the idol be placed so high in the trees?  Is Survivor over doing it with the hashtags?  Which Survivors might blurt out their own twitter handles or get engaged at the finale?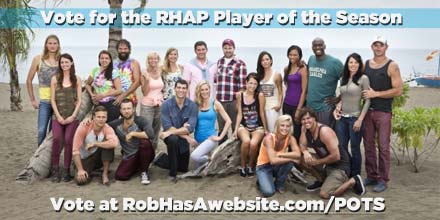 Show Links:
ShanePowers.com – Listen to the Shane Powers Podcast
Squarespace.com – Get 10% off your new account when you use promo code: RHAP12
Subscription Links:
Subscribe to RHAP (All Shows) on iTunes: RobHasAwebsite.com/iTunes
Subscribe to RHAP (All Shows) on Stitcher: RobHasAwebsite.com/Stitcher
Subscribe to RHAP (All Shows) on Soundcloud: RobHasAwebsite.com/Soundcloud
Subscribe to RHAP (All Shows) on YouTube: RobHasAwebsite.com/Youtube