Rob Cesternino spends the day after Thanksgiving with two great guests. First, Rob starts off talking with two-time Survivor, Andrea Boehlke. Then later in the show, Rob catches up with Jessica Liese and answers all the questions from your voicemails and the Survivor Social Media news.
Andrea Boehlke
Rob catches up with Andrea for the first time on a recap podcast since the Survivor South Pacific premiere recap on September 15, 2011.
Rob and Andrea discuss how Redemption Island, which debuted on Andrea's original season, has loomed large over the game.  Plus, Rob and Andrea discuss how the similarities between the game Tyson is playing this season and the game Boston Rob played during Survivor Redemption Island.  Andrea explains how Ciera's plan to rat out the guys to Tyson was similar to what Natalie did during Survivor 22.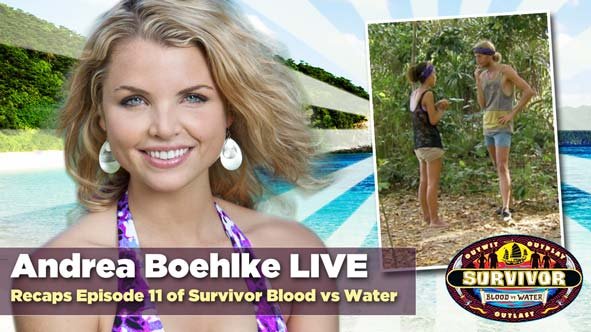 Jessica Liese (Starting at 1:07:10)
Rob welcomes in Jessica Liese (@HaymakerHattie) to discuss this week's Survivor.  Rob and Jessica discuss which of the Blood vs Water pairs would make the best contestants on The Amazing Race, whether Amazing Race or Survivor had more strategic cheating this week and whether the Blood vs Money contestants are allowed to split the million dollar prize.
Subscription Links:
Subscribe to RHAP (All Shows) on iTunes: RobHasAwebsite.com/iTunes
Subscribe to RHAP (All Shows) on Stitcher: RobHasAwebsite.com/Stitcher
Subscribe to RHAP (All Shows) on Soundcloud: RobHasAwebsite.com/Soundcloud
Subscribe to RHAP (All Shows) on YouTube: RobHasAwebsite.com/Youtube
Show Links:
Hover.com – Save 10% on New Accounts with Promo Code: ROB
Black Friday Deals Week on Amazon – Save on Daily Deals for Holiday Gifts and Support RHAP on Amazon.com
Apology to RHAP's Guest Andrea Boehlke – The latest video from Andrea's stalker, Jean-Thomas Jobin