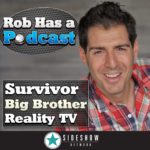 CLICK to Subscribe to Rob Has a Podcast on iTunes[/caption]
On a huge Thursday edition of Rob Has a Podcast, Rob speaks with the original Survivor winner, Richard Hatch, and the Lego Survivor Recapper, Lisa Ferreira (@MomOfKai)
Richard Hatch
Rob welcomes Richard Hatch back to the show to discuss Blood vs Water. On this podcast, Rob and Rich discuss:
Does Richard like the Blood vs Water format?
How does Richard feel Gervase Peterson is doing after his 13 year hiatus from Survivor?
What would Richard tell Gervase at this point in the game?
How does Richard think his old friend Tina has fared after her lengthy absense from the game?
Does Richard like Ciera's move to vote out her mother, Laura Morett?
Does Richard think that Caleb and Hayden are playing good games?
Does Richard see any of his game in the game that Tyson is playing this season?
What did Richard have to say about the passing of his former castmate B.B. Andersen?
Is it true that Richard Hatch is the father to over 200 children?
What did Richard think about Todd's appearance on Dr. Phil this week?
We cover all of the questions above and much, much more with Richard.
LISTEN TO RICHARD'S PREVIOUS APPEARANCES ON RHAP
Lisa Ferreira
Rob is joined by Lisa Ferreira (@MomOfKai) who created the Lego Survivor Sensation "Hold Up Bro" during Survivor Caramoan.   Rob and Lisa answer all of the voicemails left by the Rob Has a Podcast audience (which really wanted to talk about Ciera and Laura).  Plus, Rob and Lisa discuss a really ugly fight between a number of Survivors on twitter on Wednesday night.
Show Links:
Lisa's Lego Recap Blog – Weekly Survivor Recaps with Legos Lego
News Story About Richard Hatch Fathering Over 200 Children
Black Friday Deals Week on Amazon – Save on Daily Deals for Holiday Gifts and Support RHAP on Amazon.com
Subscription Links:
Subscribe to RHAP (All Shows) on iTunes: RobHasAwebsite.com/iTunes
Subscribe to RHAP (All Shows) on Stitcher: RobHasAwebsite.com/Stitcher
Subscribe to RHAP (All Shows) on Soundcloud: RobHasAwebsite.com/Soundcloud
Subscribe to RHAP (All Shows) on YouTube: RobHasAwebsite.com/Youtube
Watch This Week's Survivor Know-It-Alls