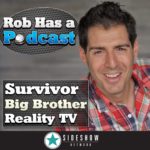 CLICK to Subscribe to Rob Has a Podcast on iTunes[/caption]
After last night's exciting Survivor Blood vs Water, Rob Cesternino speaks with the latest player eliminated from Redemption Island, Caleb Bankston
In this exit interview:
Rob asks Caleb to talk through the events of the previous episode with Hayden and himself finally when they decided to blindside Tyson
At what point did Hayden and Caleb realize that Ciera had flipped to Tyson
Did Caleb and Hayden believe that Tyson & Gervase were on board with the new plan?
How come Caleb only seemed mad at Tyson & Gervase at redemption island?
Were Hayden and Caleb really the ones pushing to get rid of Laura Morett because they couldn't trust her?
How frustrating was it for Caleb's house of cards to fall down in the final seconds of the challenge?
How did Caleb decide that he was going to swing the votes of Katie and Ciera against Brad Culpepper earlier in the season?
Does Caleb think that this experience gave Hayden the idea of trying to force the tie on this week's show?
Does Caleb regret the decision to vote against Tina, Katie and Vytas after the merge?
What was Caleb's plan to get to the final 3?
How has Caleb dealt with the backlash that people have had against his fiance after Colton quit the game.
Earlier in the season, Brad Culpepper implied that he told people at Redemption Island that Caleb couldn't be trusted.  Does Caleb think that had any repercussions in the game.
Subscription Links:
Subscribe to RHAP (All Shows) on iTunes: RobHasAwebsite.com/iTunes
Subscribe to RHAP (All Shows) on Stitcher: RobHasAwebsite.com/Stitcher
Subscribe to RHAP (All Shows) on Soundcloud: RobHasAwebsite.com/Soundcloud
Subscribe to RHAP (All Shows) on YouTube: RobHasAwebsite.com/Youtube
Watch this Week's Edition of Survivor Know-It-Alls with Kim Spradlin: