LIVE at 10 pm ET / 7 pm PT, Rob Cesternino is joined by the Bloggers from Rob Has a Website to preview the upcoming season of Survivor. Joining us on the panel will be Josh Wigler (@RoundHoward), SarahFreeman (@ChannonSarah) and Scott Gallagher (@Scotty07)
On the show we'll discuss the following topics:
1. Which twist will work the best on Survivor Blood vs Water?
2. Which Returning Player is in the most trouble to start off the game?
3. Which Returning Player will be most helped by having their loved one with them?
4. Which Loved One is most likely to become a Survivor All-Star themselves?
5. Which Player will Become the Most Hated Player by the viewers?
6. Who will be the Sprint Fan Favorite at the End of Survivor 27?
7. Who will be the winner of Survivor Blood vs Water.
Then in the lightning round, Rob asks the panel whether or not the following Survivor predictions are TRUE or FALSE:
1. The Final Four will consist of two pairs of loved ones.
2. Rupert Boneham will appear on an episode of Survivor after Halloween 2013 (not counting the finale)
3. Tyson will actually get along with a Ciera or Sierra on Survivor
4. Candace Woodcock Cody will vote against her husband, John Cody at some point.
5. The Loved Ones tribe will go to Tribal Council on Day 3 of Survivor Blood vs. Water
6. Laura Morrett goes hunting for an idol as soon as she hits the beach.
7. This will be the last time Survivor implements Redemption Island.
Don't miss any of our LIVE special coverage, SUBSCRIBE to our YouTube Channel:  RobHasAwebsite.com/YouTube
Upcoming Podcast Schedule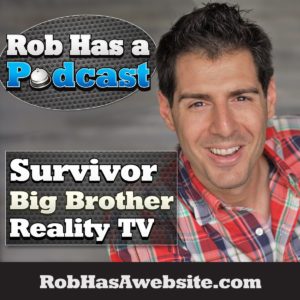 Wednesday, 9/18:
Big Brother 15 Finale Recap – LIVE at 11 pm ET / 8 pm PT
Thursday, 9/19:
Survivor Know-It-Alls Season Premiere Recap – LIVE at 12 pm ET / 9 am PT
Big Brother 15 Exit Interviews with the Final 3 – Posted Thursday Afternoon
Survivor Blood vs. Water Premiere Full Interview Podcast with Kim Spradlin – Posted Thursday Afternoon