LIVE on Friday, September 6th, Rob Cesternino and Nicole get together for an RHAP tradition, Rob and Nicole make their picks and predictions about the Survivor cast competing on "Survivor: Blood vs. Water"
Rob and Nicole open the show talking about how Nicole is feeling with the impending arrival of Baby Cesternino coming just around the corner.  Below are sections of the podcast and the time codes for the AUDIO VERSION (the video version time codes are in the youtube video description and are clickable links). These times mark the beginning of each part of the preview:
Aras Baskauskas and Vytas Baskauskas  (23:40)
Rob and Nicole discuss the prospects for the Baskauskas brothers.  Rob reads from Vytas' CBS bio about how Vytas has beaten an addiction to heroin.  Rob and Nicole think that Vytas will fit in well on the loved ones tribe since he is athletic and seems to have good social skills.  Nicole thinks that the yoga practice of Aras & Vytas will be a big factor too.  As for Aras, Rob worries that he could be seen as a threat but Nicole doesn't think so.   Both Rob and Nicole think Aras will be able to make it past the merge.
Candice Woodcock & John Cody   (35:35)
Turning to Mr & Mrs Woodcock Cody, Rob and Nicole see good things for John Cody, despite his issues with people eating paper.  John Cody seems far more laid back than Candice.  Rob thinks that Candice might fall victim to overplaying the game and could turn off some of the other returning Survivor players.
Colton Cumbie & Caleb Bankston (44:25)
Its a mixed bag for Colton and Caleb as far as Rob and Nicole are concerned.  Both Rob and Nicole think Caleb will fit in great with his tribe, but there is concern on how well Colton is going to mesh with the tribe of returning Survivor players.
Gervase Peterson & Marissa Peterson (52:55)
Figuring out how Gervase will fare in his return to Survivor proved to be a difficult challenge.  The game has changed so much since the original Survivor, Rob has a hard time figuring how Gervase will adjust.  Rob didn't get a good read on Marissa in pre-game interviews but Nicole saw enough to think that neither Gervase or Marissa will go far.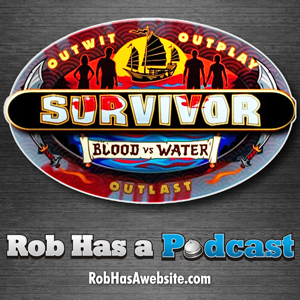 Kat Edorsson & Hayden Moss (1:07:50)
Kat from Survivor One World returns with her boyfriend, the winner of Rob Has a Fantasy Football League 2 (and Big Brother 12), Hayden Moss.  Rob thinks Hayden is going to do great on Survivor because he has all of the skills needed.  However, Rob is worried about Kat and thinks she may work too hard to overcorrect the mistakes of Survivor One World.  Rob and Nicole also wonder if the tribe has too many older women who won't get Kat's humor.
Laura Morett & Ciera Eastin (1:19:05)
Rob also struggled with getting a good read on Ciera from the preview videos.  Rob and Nicole think she will be fine but Nicole says that Ciera was already crying about missing her kids.  As for Laura, Rob and Nicole thought she could be okay but probably will ruffle some feathers along the way.
Monica & Brad Culpepper  (1:25:50)
As for Monica and Brad Culpepper, Rob and Nicole think that Brad should do very well on Survivor.  Monica and Brad also seem to be much more in love than Rob and Nicole and even have matching tattoos.  Rob worries that Monica is paranoid to a fault this season after getting voted out early on Survivor One World.
Laura & Rupert Boneham    (1:32:05)
Rupert returns to Survivor for the fourth time with his wife Laura and Rob and Nicole doesn't think it's going to be a happy homecoming.  Rob and Nicole think Laura could be in trouble off the bat because the other returning players may not be the biggest Rupert fans.  As for Rupert himself, Rob and Nicole think that he will clash with some of the more laid back personalities on the returning favorites tribe.  Rob predicts that this will be Ruperts worst finish in his four tries.
Katie Collins & Tina Wesson (1:42:45)
Tina Wesson is returning to Survivor for the third time with her daughter Katie.  Rob and Nicole don't see any reason why Katie shouldn't at least make the jury.  Tina's game is going to much more interesting to watch to see if Tina will work with Monica and Laura or will try to work with a younger Alpha male again.
Tyson Apostol & Rachel Foulger (1:50:05)
Tyson also returns to Survivor for the third time with his girlfriend Rachel.  Rob and Nicole think that Rachel will create little drama in the camp of the loved ones.  Nicole says that after dealing with Tyson for years, Rachel can deal with anyone.  Rob and Nicole also suspect that Rachel will be more likely to work with the guys than to work with Ciera and Katie.  For Tyson, Rob and Nicole believe that this could be Tyson's best finish in his three tries.
Picks for the Winner of Survivor 27 (2:04:50)
As is the tradition in the preview podcast, Rob and Nicole make their picks for the winner of Survivor Blood vs. Water.
Show Links:
Squarespace.com – Save 20% on your website subscription plan with our promo code: RHAP9
Rob Has a T-Shirt – Support RHAP with the official T-shirt of the podcast designed by Erik Reichenbach
Reddit.com/r/RHAP – Rob has a Subreddit