Drafting the Survivor Game Changers… in June 2016!
Back on June 13, 2016, Shirin Oskooi (@theshirin), Akiva Wienerkur (@Keev26) and Sarah Channon (@ChannonSarah) joined Rob Cesternino to draft the Survivor Game Changers cast.  This draft was a based on a unique scoring system that rewards a winner and the biggest characters in a season.
Official Scoring:
Winner: 10 points
2nd: 3 points
3rd: 2 points
5+ confessionals in ep: 1 point
First boot: -3 points
Everything You Need to Know About the Survivor Game Changers Cast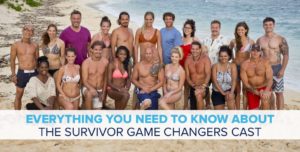 Rob Cesternino and Josh Wigler kickoff the Survivor pre-season by going over everything you need to know about the cast of season 34: Survivor Gamechangers.
Listen to Rob & Josh's Cast preview
Watch Rob and Josh Wigler Discuss the Cast in a Special Survivor Facebook LIVE Event
https://www.youtube.com/watch?v=j-UWyfaY4nE
 How to Help Support RHAP