Rob Cesternino and Josh Wigler got back together to talk about all of the headlines of Wednesday's cast announcement for for Survivor 30, premiering on CBS on February 25, 2015.
The 7 Things We Learned about Survivor Worlds Apart and the Season 30 Cast 
SEE THE ENTIRE CAST AT CBS.COM
#1: White Collar, Blue Collar & No Collar is determined by Jeff's rule and decided after these contestants were cast.
This season borrows from Survivor Cagayan in many ways starting with the way the season was cast.  Much like Brains vs. Beauty vs. Brawn, the Survivor casting team came up with these tribes after all of the players were cast.  Some of the players are shoe-horned in to a tribe for arbitrary reasons.
Of particular note, Jeff explains the reasoning for doing this is because of the lessons learned from Survivor: San Juan Del Sur.  Rob and Josh discuss how surprising (or not surprising) it is to hear Jeff discuss Season 29 so frankly.
#2: Talking About Twists
The game will start with a twist also borrowed from Survivor Cagayan with a new wrinkle.  Two players will have to decide together to get a bigger bag of food or a clue to the hidden immunity idol.  Jeff mentions that he is looking forward to seeing players share a lie.
In addition to the game opening twist, he get an ominous note about another twist coming to season 30 from Dalton Ross' conversation with Jeff Probst on EW.com:
Of course, that's not the only twist this season. The host also told us back in December that there will be another new element at play: "We have a new advantage in the game. Something we've toyed with for a long time and decided to do it this year, and it plays out great. I'll leave it at that for now."
#3: Max Dawson is on this season
Max is a prominent member of the Survivor online community.  Max is best known for teaching a college class about Survivor and Reality TV at Northwestern University.  Max has had many former Survivors speak to his class (including Rob Cesternino) and knows many of the former Survivors and Survivor fans.  Max is the most prominent fan to ever make it on to the show and figures to be a controversial figure as long as he's in the game.
#4: Will Sims II is a Professional "Youtube Sensation"
Will Simms and his wife Monifa were featured on The Tonight Show with Jay Leno is a famous clip singing Karaoke at a gas pump.  The clip went viral after appearing on the Tonight Show but there is some evidence that suggests the Will and Monifa could have been part of an elaborate setup.  Will could either be naive and pushed around or far more savvy than some of the other players will suspect.
#5: So Kim was So Close to Being on San Juan Del Sur
So Kim and her sister were supposed to be the 19th and 20th contestants in last season's Survivor San Juan Del Sur.  After So's sister did not pass the final medical examination, they were not able to participate in the season.  So gets her shot at Redemption here in World's Apart
#6: There are Several Fans on This Season
In addition to Max Dawson, there are a few other fans on this season.  Shirin tells us that "Rob Cesternino as a witty, sharp, know-it-all Survivor nerd who keeps tabs on everybody." (she also wants to bring a "muffin" to the island).  Nina is a member of the Facebook Survivor group, "Previously on Survivor".  Dan is also a super-fan who has met Bob Crowley and driven 1000's of miles to audition for the show.
#7: Survivor is Going (Going) Back (Back) to Cali
After very few Survivors hailed from California in Season 29, 50% of this new cast comes from the Golden State.  In face 4 of the 6 members of the "White Collar" tribe and a whopping 5 of the 6 members of the "No Collar" tribe are all from California.  It will remain to be seen what effect (if any) so many players from the same geographic area will have on the game.
Subscribe to the Podcast:
Nominate RHAP for This Year's Podcast Awards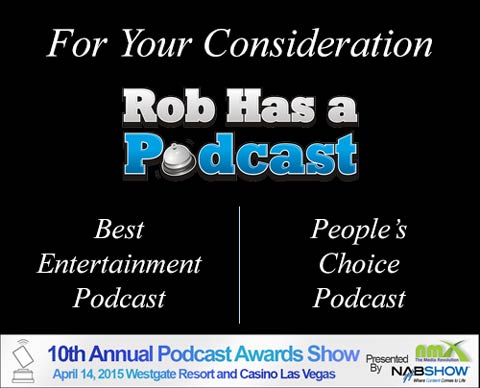 If you deem us worthy, we appreciate your consideration for Podcast Awards nomination in the following categories for 2014:
Best Entertainment Podcast of the Year
People's Choice Podcast of the Year
You can nominate podcasts between 1/19 and 1/30 at PodcastAwards.com
Get Ready for Survivor 30 with the FREE Borneo Chapter of "Evolution of Strategy"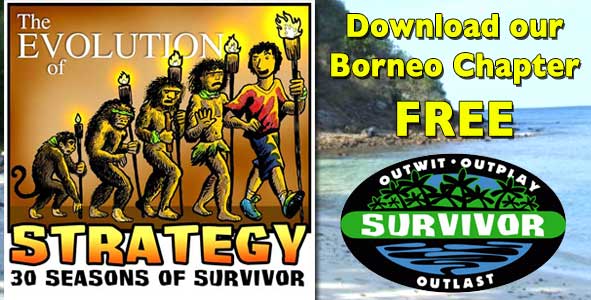 We're commemorating 30 Seasons of Survivor this year our 3-part audiobook presentation of "The Evolution of Survivor".  I'm re-watching each season of the show with entertainment journalist, Josh Wigler, to discuss how the game's strategy changed from season to season.
You can listen to the nearly 6-hour first chapter all about Survivor Borneo for FREE at EvolutionOfSurvivor.com

Buy this on Selz
Selz powering ecommerce websites