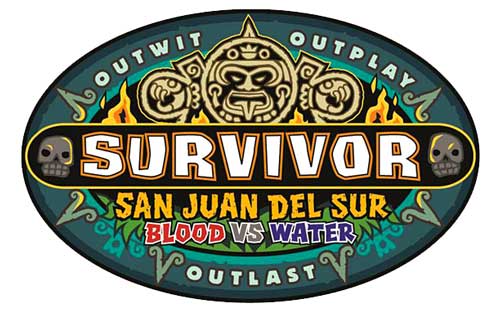 Survivor will return for its 29th season on CBS on Wednesday, September 17, 2014 with "Survivor: San Juan Del Sur". 18 new contestants will be marooned on the islands of Nicaragua to battle the elements and each other to win one million dollars and the title of Sole Survivor. These islands were previously the home of seasons 21 and 22, "Survivor: Nicaragua" and beloved fan favorite season "Survivor: Redemption Island".
This season will feature the return of the "Blood vs. Water" twist with family members competing against each other. However, unlike the original Blood vs. Water season, "Survivor: San Juan Del Sur" will feature a cast entirely of first time players. Originally 20 Survivors were set to compete, but two were pulled from the game before filming started due to medical reasons. Because the pair that was cut consisted of two people of the same gender, this season will feature a rare gender imbalance of contestants for Survivor.
In addition, "Survivor: San Juan Del Sur" was to feature the return of Redemption Island, which host Jeff Probst claimed would become a regular part of Blood vs. Water seasons. However just days before the season started, the Redemption Island concept was eliminated from this season and will be replaced by the return of the Exile Island twist, last seen in "Survivor: Tocantins". This twist will make use of the already-built Redemption Island Arena.
The cast for the new season includes:
– Nadiya and Natalie Anderson, former two-time "twinnies" from The Amazing Race
– Jaclyn Schultz and Jon Misch, college sweethearts
– Dale and Kelly Wentworth, father and daughter from Seattle
– Val and Jeremy Collins, a married police officer/firefighter couple from Foxboro, MA
– Baylor Wilson and Missy Payne, a mother and daughter
– Josh Canfield and Reed Kelly, dating Broadway performers from New York City
– Wes and Keith Nale, father and son firefighters from Shreveport, LA
– Drew and Alec Christy, brothers from Winter Park, FL
– Former Major League Baseball player John Rocker and Julie McGee, a dating couple from Atlanta
Rob Cesternino will be podcasting about Survivor: San Juan Del Sur all season long. He'll be joined by Stephen Fishbach for "Survivor Know It Alls" live after every episode, bring you exit interviews with the eliminated contestants, and dig deep with your favorite past Survivors to break down everything that unfolds in the new season.
Visit our Survivor San Juan Del Sur Category Page
Subscribe to our Survivor ONLY Podcast Feed
Survivor San Juan Del Sur Podcasts
[display-posts tag="s29-podcast"]