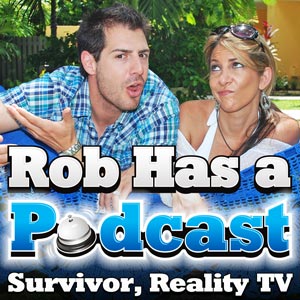 I didn't know exactly what I was getting myself into when I started Rob Has a Podcast in the beginning of 2010. I had no idea that these recordings Nicole and I were doing "live" from our apartment would change my life so much. I never imagined that this wonderful second act of my Survivor career was about to begin. Through doing these shows over the last few years, we've been extremely fortunate to meet and interact with such a dynamic and engaged audience who are as passionate about discussing Reality Television as we are.
While the podcast is a source of endless fun for me there are numerous costs associated with the production.  Things like bandwidth for all the shows, hosting for the sites and equipment do start to add up over the months.  Plus, spending hours podcasting and producing shows is time that takes away from doing other work (which while not nearly as fun) that helps pay the bills.
I strongly believe in keeping all of my podcasts free so as many people as possible can listen and interact with the show. If you enjoy these shows and want to help contribute to our continuing efforts, I've set up a way for you to make a paypal contribution.
Become a Patron of RHAP Contribution
Patreon is a site which allows people to make ongoing monthly contributions to online content creators like myself. If you want to find out more about the incentives of being a Patron, visit RobHasAwebsite.com/Patron

Make a One Time Contribution Via Paypal
Make a Monthly Via Paypal Contribution
Remember, you don't have to make a financial contribution to help support Rob Has a Podcast. The easiest way to help support the show is to just keep listening and share your thoughts on our comment forums and on twitter. Even better, share our show with some of the other Reality TV lovers that you know. Without you guys, this show would not be possible so thank you all so much for making my crazy dream of making this podcast into a reality.
Thank you so much!!
-Rob Cesternino