Amy and Haley share their thoughts on week 4 of Bachelor in Paradise.
In this podcast they discuss:
the decision weighing on many of the men about whether or not they should save Juelia because she got played by Joe

JJ saving Ashley S out of the blue

Dan not knowing if he should save Amber or Juelia

Juelia being portrayed as a saint 

JJ rehab-ing his image

JJ eliminating Megan and revealing he has an ex-girlfriend back home and no one being mad about it

Juelia asking Chris Harrison to bring Mikey back

Mikey coming back after Juelia was seemingly eliminated

the arrival of Nick Peterson of Bachelor Pad notoriety

the differences between Bachelor Pad and Bachelor in Paradise

Kirk and Carly's fishing date

Ashley S. and Nick's tequila connection

Jade and Tanner's overnight date

Predicitions about Jade and Tanner's future—is an engagement likely?

Josh and Tenley's invisibility

Mikey and Juelia's wrestling date
Samantha's text conversations with different guys
Samantha's 180 in her feelings for Joe
Jared breaking things off with Ashley I.
Ashley I. and Joe bonding
Joe threatening to expose Sam's lies
Jared's concerns about his image and not being over Kaitlyn
Ashley I. calling Kaitlyn
Who is the villain: Joe or Sam?
Joe apologizing to Juelia on After Paradise
the After Paradise fakeout with Nick V
the reveal of Ben Higgi as the next Bachelor
Previews showing Chris Bukowski returning and Amber and Justin hooking up
tangents about food, Friends and Ted Danson
listener questions and more!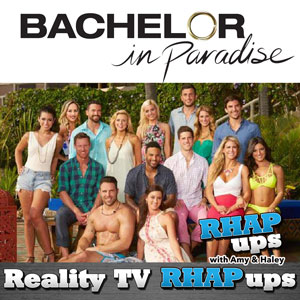 Subscribe![/caption]