Rob Cesternino and Nicole are back from their trip and so is the Friggin 5. Check out what Rob and Nicole had to say about the following 5 topics:
[6:40] #1. This Week in Survivor – Rob and Nicole discuss how they do know who is going back for Survivor 23, who Jessica Sugar Kiper will be hanging out with in the Celebrity Rehab house and what exactly Boston Rob is up to with Ultimate Murlonio Contest.  Be sure to view Rob's contest entries below for the "Ultimate Murlonio Contest Entry Contest".
[31:20] #2. This Week in Television – Nicole shares her updates about what is going on during The Bachelorette with this guy named Bentley, Rob and Nicole discuss Teen Wolf, Nicole reports on the Mob Wives and Rob talks about a very interesting episode of South Park.
[44:00] #3. Paging Nurse Nicole – Nicole Cesternino addresses the medical questions and concerns of the Rob Has a Podcast listeners.
[54:10] #4.  Weinergate Update – Rob and Nicole discuss the latest happenings in the ongoing saga of Anthony Weiner. including the revelation of his guilt, the other women that have come forward, the news his wife is pregnant and another lewd photo which surfaced on the Opie and Anthony radio show.  Plus, we listen to some comments that Donald Trump had to say about Congressman Weiner.
[1:04:15] #5. Listener Questions & Comments – Rob and Nicole play a Survivor Mad Lib in honor of the creator of Mad Libs passing away plus the answers to many of your online questions.
It's a Friggin 5 podcast so good, your Inner Murlonio will grow it's full head-honcho-ness… it's Rob Has a Podcast.
[audio:http://traffic.libsyn.com/robcesternino/2011-06-09-friggin5.mp3]
And as always, we love to hear your comments, so join the conversation and let us know what you think below or connect with us directly via twitter: @robcesternino and @nicoleluvsshoes
Ultimate Murlonio Contest Entry Contest:
Help Rob decide which picture best embodies his inner Murlonio from the three pictures below:
Entry #1: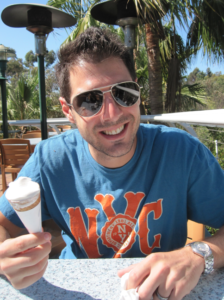 Entry #3:
No purchase is necessary.  Winner must be present.  Stay tuned for additional contest rules for Rob Cesternino's "Ultimate Murlonio Contest Entry Contest"