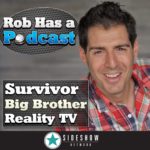 Rob Cesternino welcomes Rich Tackenberg back to the podcast to recap the latest episode of SNL hosted by Lady Gaga. Rob and Rich review all of the sketches from Saturday Night Live to tell you what worked and what didn't.
Among the things that both Rob and Rich agreed on were Taran Killam's take as speech critic, Jebediah Atkinson, during weekend update, The Kim Kardashian and Kanye West Talk Show and the pre-taped piece about the employees from Blockbuster after the bankruptcy.
Things that didn't hit included the weird co-op board, the kids acting camp and not being able to understand Lady Gaga during the monologue.