Rob starts the show trying to track down Big Brother 13's Shelly Moore in the spreecast universe so she can come on and share her insight. While Shelly works to join the show, Rob discusses Ashley's back problems. Rob thought it was unfair that Ashley was able to have Frank play for her in the Have Not Competition. Rob also debuts his Wil impression, along with his tried and true Boogie and Joe impressions.
Shelly joins the show around 17:00. She talks about how the situation with the coaches entering was not really fair for the newbies. She thinks the veterans feel entitled to win and how the newbies are playing too personal. Shelly doesn't think it was smart to get rid of Janelle, and she believes Britney is playing too personal as well. She also talks about the fun antics she had during her season on the live feeds, such as Rachel and Brendon attempting to eat cinnamon.
Shelly shares how she feels about Janelle stealing her move of offering her wedding ring. Shelly says she would love to play against Janelle and would like to see Dominic play Big Brother again. Answering questions from fans, Shelly discusses how she convinced Kalia to nominate Lawon, mentions she will be going to Brendon and Rachel's wedding in September, and fills everyone in on the meaning behind her secret signal to her daughter. Shelly talks about how she wishes more players were light-hearted like Ian, rather than leaving mean goodbye messages. She also discusses when it is the right time to lie in the Big Brother house.
After Shelly's segment, Rob plays an exclusive clip: "The Mike Boogie and Dan Gheesling Lackluster Endorsement of Rob Has a Podcast," which you can also see on August 11 Camera 1 around 5:57 PM.
To close the show, Rob checks in with his hard-working team of Live Feed Correspondents. Brian talks about how Boogie and Dan have a Final 2 deal, and how Dan wants to take Joe out, while Froogie wants to take out Wil. He also says Jenn promised Wil her vote. Bill talks about a story Britney told about something she overheard Joe doing in the house, which Bill has dubbed "Mastergate." He thinks Shane doesn't have much game, but he's in a good spot behind the targets of Dan and Boogie. Finally, Matt comes on to talk about the fallout from the Zingbot. Danielle was offended that she was portrayed as a stalker. Matt also discusses whether Dan was aware he was a target.
Rob then announces that Erica Rose will be joining him on the Bachelor Pad web show on Monday night, and reminds everyone to check out the exit interview with Janelle if you missed it.
[audio:http://traffic.libsyn.com/robcesternino/20120812-shelly.mp3]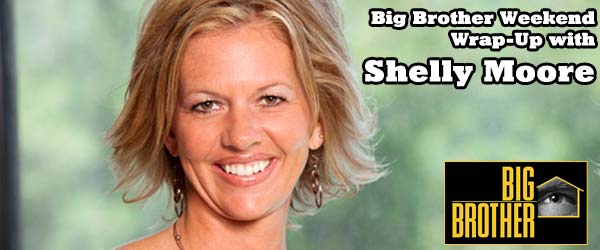 Shelly Moore joins Rob to talk about Big Brother 14[/caption]