Russell Hantz is perhaps the most notorious Survivor player of all-time and one of the most sought after Rob Has a Podcast guests in history. Finally, a podcast almost 2 years in the making… Russell Hantz joins Rob and Nicole for an exclusive interview.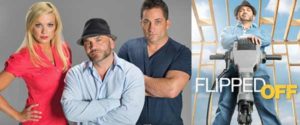 Rob and Nicole welcome Russell to the show and ask him if there's been any change in the relationship between himself and Brandon Hantz. Russell has not eased up in his criticism of how his nephew played the game of Survivor. Russell accuses Brandon of quitting Survivor and says that if Brandon was serious about playing for God then he should've tried to win the money and donated it to the church.
Russell has plenty to say during the interview including his thoughts on Boston Rob's game during Survivor Redemption Island. Russell believes that a Survivor should only be judged on how they play the first time around and doesn't give Boston Rob Mariano much credit for his victory in his fourth time playing.
Rob asks Russell about his recent feud with Survivor South Pacific player John Cochran who challenged him to a fight on twitter. Russell says that he was serious and he would have fought Cochran if he was provoked – but the two were able to get along at the finale.
Russell reveals some of the details for his new show "Flipped Off". Russell will be trying to flip houses with his brother Sean Hantz and a blonde female co-host. Russell says that he turned down the opportunity to host Boston Rob's show "Around the world in 80 ways" for the chance to host "Flipped Off". Russell says that "Flipped Off" should premiere sometime in April on A & E.
Russell answers a number of questions from the listeners including making his endorsement for Miss Survivor. Russell discusses his impact on the history of Survivor starting with Survivor Samoa. Russell tells us how he might have done had he been on the Ometepe tribe instead of the Zapatera tribe in Survivor Redemption Island. Russell also gives us some more information about the tribal council which sent Tyson Apostol home on Survivor Heroes vs. Villains and what he thinks was his greatest Survivor move of all-time. Finally, Russell describes how he would be if he were to ever take over for Jeff Probst as the host of Survivor.
[audio:http://traffic.libsyn.com/robcesternino/2012-01-27-hantz2.mp3]