Aaron Robertson and his trusted ally Nick Fishman take on the evil masterminded show that is 13: Fear is Real. The guys talk about the one-hit wonder that was entertained them to death, about 13 guests that were sent into the Louisiana bayou to battle evil forces and each other. The guys had large praise for the atmosphere and presentation of the fear-driven show and loved the unique spin on the reality show format. The main attraction to the show was the Death Box twist and the amount of intrigue it brought to the show. The guys actually believed there wouldn't be much they would want changed if the show were to be brought back for a second season and they elaborated on why that was the case.
Some of the things that are uncovered in this terrifying podcast are:
 How did foreshadowing play a large part in the show?
What theories were made for several "what if" scenarios that could have occurred?
What connections does this show have with past Rise and Fall shows?
What was the most memorable moment of the show?
What challenge should have been placed later in the season?
How different could the killer's have been?
What contestant was the most baffling during their tenure on the show?
We always love hearing about our listener's thoughts and opinions. Be sure to comment and suggest ideas for future shows. Who knows, maybe one of your favorite shows will be next. Also subscribe to Rob has a Podcast and Reality TV RHAPups to get the latest on all amazing podcasts.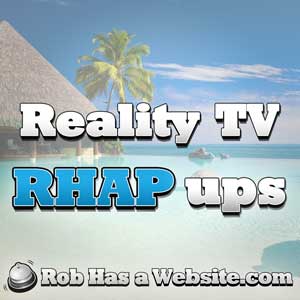 Click to Subscribe to ALL of Reality TV RHAP-ups[/caption]