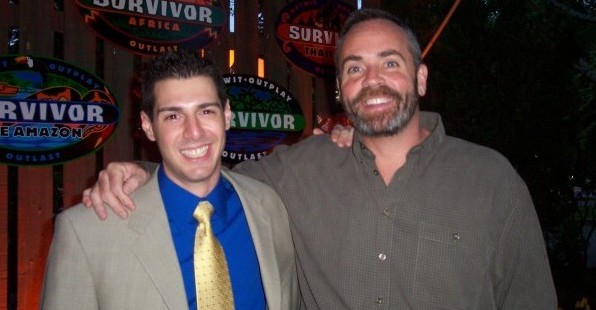 [/caption]
Richard Hatch was the first winner of Survivor back in 2000, played Survivor again in 2004 on Survivor All-Stars and played Celebrity Apprentice in 2011. In between, Richard has served two sentences in prison after being prosecuted for tax evasion. Richard explains his side of the story about how he doesn't owe any back taxes. Richard feels as though he is being wrongly persecuted for making controversial remarks. Richard gives plenty of insight into the struggle he has been dealing with since these accusations first started in 2003.
Rob asks Rich for his thoughts on Survivor: One World. Of course, Rich has plenty of thoughts about Colton Cumbie and the game that he is playing. Richard is not impressed at all with Colton and refers to him as being very catty. Rich doesn't understand why Colton is so angry at the world and why he is so jaded against the other contestants. Rob and Rich also discuss why the other Survivor players have been so willing to follow Colton and his plans.
On the other side of the ledger, there is discussion of who is playing a good game. While Rob is impressed with Chelsea Meissner and Kim Spradlin, Rich really likes what Sabrina Thompson is doing. Rich is also amazed by Tarzan and can't believe that he is actually a plastic surgeon.
On the subject of Celebrity Apprentice, Rich describes some of the antics that took place off camera including some wild un-aired moments from Gary Busey. Rich gives some insight into the fight that took place between Meatloaf and Gary Busey last season. We also discuss whether players should hold their donors for the task when they are the project manager.
This season, Richard is fond of Penn Jillette and thinks that Penn is playing in a similar way that he played. Rich is also a fan of Lisa Lampanelli and how direct she is in the boardroom. He also thinks Dayana Mendoza is not as dim as she's being portrayed but says that Lou Ferrigno is delusional.
Richard Hatch answers a number of questions from the listeners. Which players has Richard enjoyed watching over the last couple of seasons? What is Richard's opinion of David Cassidy? What has Rich thought about Boston Rob's evolution over four stints on Survivor? Plus, would Richard Hatch be willing to take over for Jeff Probst as the host of Survivor someday?
Rob Cesternino goes one on one with Richard Hatch in an exclusive interview on a very special episode of Rob Has a Podcast
[audio:http://traffic.libsyn.com/robcesternino/2012-03-19-richard-hatch.mp3]