Jordan is joined by Haley Strong of the Bachelor RHAP Up to breakdown the craziness of the Season 3 finale of 90 Day Fiance. Topics of discussion include:
Which couple was the most normal?
Which couple was the most insane?
What are the odds that each couple will last?
Which of Mark's reunion comments were the worst?
And much more!
Join us LIVE every Saturday at 3PM Eastern/12PM Pacific (usually).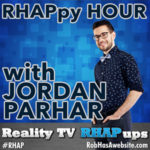 How to Help Support RHAP
Become a Patron of Rob Has a Podcast | RobHasAwebsite.com/Patron