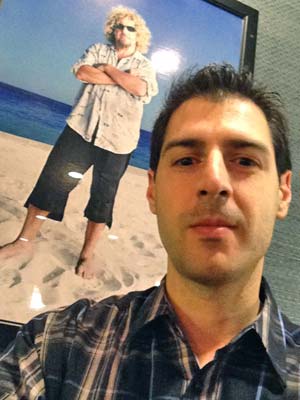 Quick! Am I front of a picture of Sammy Hagar or Jonny Fairplay?[/caption]
WOW! I'm writing this post from Sammy Hagar's Beach Bar & Grill at the Las Vegas airport as I wait for my delayed Southwest flight back to Los Angeles and I can't believe the weekend I just wrapped RHAP'ed up in Vegas!
Rob Has a Podcast won the Podcast Awards for the Best Video Podcast AND the Best Produced Podcast of the year.  Unbelievable!  It blows my mind to think of the untiring support of the RHAP community and how many of you guys must have voted day after day for us to beat out extremely tough competition.
I am under no illusion that Rob Has a Podcast is the Best Produced podcast, but I know that we have the most dedicated fanbase of any podcast.  As I said in my acceptance speech, you guys are my rock… and not like the white kind that gets you voted out at tribal council.  Nobody in the audience knew what I was talking about.
As promised, in return for your votes, "Rob Has a Roast" is happening in L.A.  on Sunday, January 26.  I've heard already from a bunch of people that are coming in to town to attend.  Since people are coming so far to see me, I'm going to plan another get together for that weekend.  If you're coming out and have some ideas, let me know what you think.
In addition to RHAP winning two awards, I was really happy to see my friends Pod Vader and Matthew Berry win again in Sports for the Fantasy Focus Baseball.  Also, my fellow TV Podcast buddy, Jason Cabassi won this year in Entertainment for "The Walking Dead Cast".
See the full list of Podcast Award winners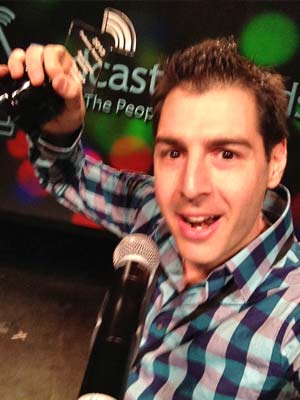 The Podcast Awards were part of the New Media Expo which is a convention for Bloggers, Podcasters and Video content creators.  On Sunday, I spoke on my panel about the "Tip for Building A Successful Fan Podcast About Your Favorite Movie or TV Show" with Jason, Darrell Darnell, and Stephanie Ravenscraft (wife of "The Podcast Answer Man", Cliff Ravenscraft).
All in all, I learned a lot of new information, I made a few friends and I didn't lose my shirt gambling.  It was a fantastic weekend but I can't wait to get back home and start working on the next podcast.  It's an amazing feeling to go up on a stage and get an award for something in front of hundreds of people (let alone, do it twice in one night and three times in the last year).  I'll never forget the support you guys have given to me and made ANOTHER amazing experience possible for me.
L0oking forward to all the fun we're going to have in 2014!
-Rob
P.S.  Did I mention the voting is open daily for the Stitcher Awards through January 13th?