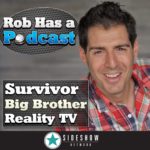 CLICK to Subscribe to Rob Has a Podcast on iTunes[/caption]
Rob Cesternino talks to the latest player eliminated from Opposite Worlds in our second exit interview with a cast member of the show.
On Wednesday night's show Wyatt Werneth (@ww711) came up short in the Duel of Destiny versus Jesse. Wyatt was blindsided by Lauren and Team Epoch's decision to put him into the Duel. Rob has a chance to talk to Wyatt about his experience in the show.
In the interview Rob asks Wyatt about the following things:
Is Wyatt still upset with his team for putting him in to the Duel of Destiny?
What did Wyatt believe the plan was going to be on Wednesday night?
Who does Wyatt think was pushing for him to go in to the duel from Team Epoch?
Did Wyatt think it was the right strategy to put Jesse in to the duel from Team Cronos?
Did Wyatt throw the challenge on Wednesday night?
How much did Wyatt know about the alliance between JR and Jeffry?
What happened with Wyatt and the latrine after this week's Worldly Challenge?
Who is Wyatt rooting for in the game now that he's gone?
Has Wyatt been in touch with Charles since leaving the game?
What is Wyatt's opinion of Jesse now that he is out of the game?
Who does Wyatt suspect may have a showmance developing in the near future?
Did anybody hear Jeffry bringing food to JR during this week's episode?
Be sure to join us on Wednesday night for our next recap of Opposite Worlds on SyFy after it airs in its new time slot which will be at 8pm ET (5pm PT if you have satellite TV).
Subscription Links:
Subscribe to RHAP (All Shows) on iTunes: RobHasAwebsite.com/iTunes
Subscribe to RHAP (All Shows) on Stitcher: RobHasAwebsite.com/Stitcher
Subscribe to RHAP (All Shows) on Soundcloud: RobHasAwebsite.com/Soundcloud
Subscribe to RHAP (All Shows) on YouTube: RobHasAwebsite.com/Youtube