Rob Cesternino hosts the 2015 Mr Survivor Debate between finalists Jeremy Collins, Spencer Bledsoe & Tony Vlachos.
After the debate, make your vote for Mr. Survivor and Ms. Survivor.
Official Rules
1.  Voting will begin at 12:01 ET on Mon, February 16, 2015 and run through 11:59 pm ET on Sat, February 21st, 2015.  You can cast your votes directly on the poll page using this link: https://www.surveymonkey.com/r/rhap15
2.  Voters will select 1 eligible man and 1 eligible woman to win in each category.
3.  Voters may vote once from any computer, tablet or mobile device they own.  Intentional ballot box stuffing will be discovered and those votes will be discarded.
2.  There will be no write-in candidates
---
Get Ready for Survivor 30 with the FREE Borneo Chapter of "Evolution of Strategy"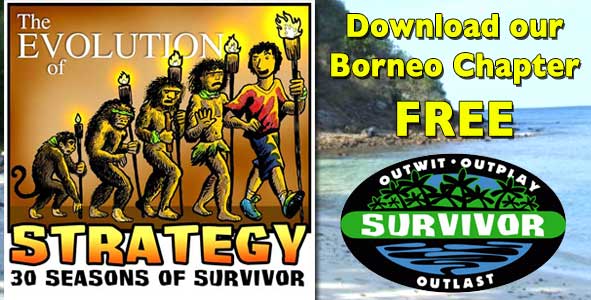 Get Chapter 1 Free of the Survivor Audiobook: The Evolution of Strategy[/caption]
We're commemorating 30 Seasons of Survivor this year our 3-part audiobook presentation of "The Evolution of Survivor".  I'm re-watching each season of the show with entertainment journalist, Josh Wigler, to discuss how the game's strategy changed from season to season.
You can listen to the nearly 6-hour first chapter all about Survivor Borneo for FREE at EvolutionOfSurvivor.com
Buy this on Selz
Selz powering ecommerce websites