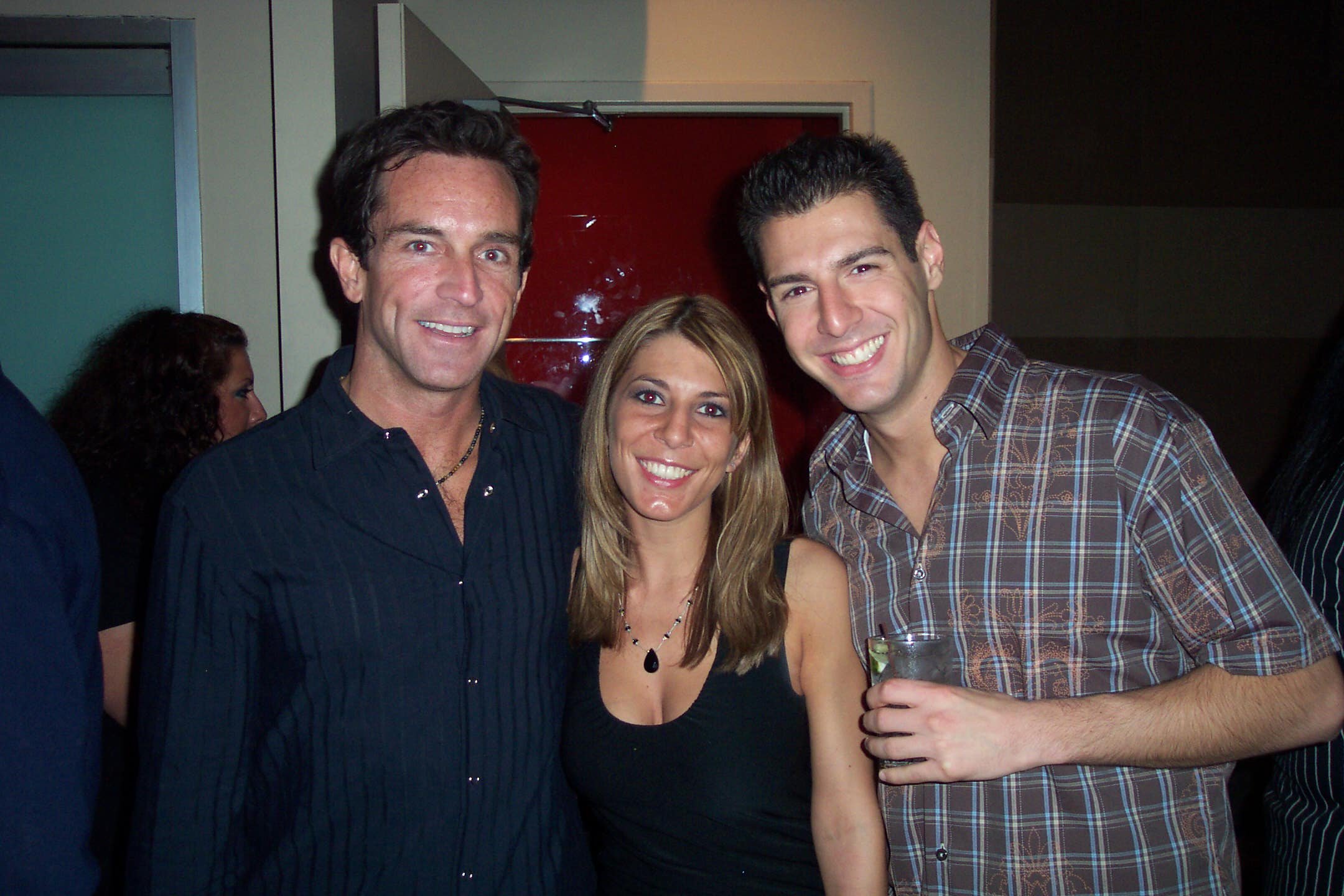 Jeff Probst, Nicole and Rob Cesternino after America's Tribal Council in 2004[/caption]
The wait is finally over! Rob Cesternino welcomes the four-time Emmy award winning host of "Survivor" and the "Jeff Probst show", Jeff Probst to Rob Has a Podcast.
Rob starts off the interview by informing Jeff how this month was the 10-year anniversary of the filming of Survivor: The Amazon. Jeff brought up how Rob was the first player they ever had on the show who was a fan of the show who knew the show backwards and forwards.
Survivor Philippines
Rob commends Jeff on his call that this was actually a great season of Survivor. Jeff is happy that the fans are as happy with the season as he is and hates that some fans feel like he has lost credibility with season predictions for the show. Rob asks Jeff about the wild tribal council from this past week's episode and how it ranks compared to other crazy tribal councils. Jeff described his role in this week's show and how this tribal council appeared to be a huge moment in the show. Rob asked Jeff about his "blown opportunity" comment and whether that was for the players or for the audience. Jeff says that everything he does is for the audience and his job is to say the things that the people at home are thinking.
Bringing up Jeff's relationship with Jonathan Penner, Rob wants to know if Jeff thinks it's a good idea for players to try and mix it up with Jeff during the game. Jeff says that he is a part of the game and is surprised that more people don't try to interact with him. Jeff says that he goes to Penner because he is such a great wit and that's why it works for him. Jeff says that he goes to the people who help to tell the story.
Rob wants to know what it's like for Jeff Probst to host the show this season with players like Jeff Kent and Lisa Whelchel who are players who have secrets. Jeff says that it doesn't really change anything for him as the host. Probst loved having Jeff Kent because he is a guy who would've been on the show even if he wasn't a baseball player. Jeff says that him, Lisa was simply a Christian mom and not the star of "The Facts of Life". Jeff explains how he almost blew Jeff Kent's cover in the challenge by revealing his name. Rob wonders if the alpha-dog rivalry goes back to his feud with Barry Bonds.
This season, Jeff also got kissed at tribal council by a contestant for the first time. Rob asks Jeff about what happened with Sarah Dawson this season. Jeff says he's not sure if Dawson was just having fun or just wanted to kiss him. Rob asked if Jeff got in trouble from his wife, Lisa-Ann Russell, but Jeff says that he didn't catch any heat.
The Future of Survivor
Rob wants to know about the future of Survivor and whether it has a definite life span or if its a show that could go for a generation like Jeopardy or The Price is Right. Jeff isn't sure but is excited about how this season of Survivor is not showing any age. Jeff thinks that there is some concern about how television as an industry and thinks it will be interesting to see how it all plays out.
Rob puts Jeff on the spot and asks him if he will return to Survivor for Season 27 & 28. Jeff says that he is coming back to the show and says that while there is still contract to work out, he'll be there to host the show. Jeff thinks that Survivor has over used a lot of the great players from Survivor history but thinks it's important to bring in some new people as well to keep it fresh. Jeff talks about how he really liked the idea of "Redemption Island" because he liked mixing it up.
Rob asks Jeff Probst if other celebrities are coming to him about getting on Survivor after the success of Lisa Whelchel and Jeff Kent on the show.  Jeff says that most celebrities don't have the "balls" to go out on Survivor.
In the 25th season of Survivor Rob asks Jeff about his favorite moments from the history of the show.  Jeff says that he still vividly remembers how Richard Hatch won the first show after the expected Rudy Boesch to be the winner.  Another moment for Jeff was how Russell Swan almost died in Survivor Samoa.  Jeff also remembers sitting with Mark Burnett in Survivor The Australian Outback when Mike Skupin fell in the fire.
Responding to Criticism
Rob wants to know how things are going with "The Jeff Probst Show" and Jeff says that he is still very much in transition with learning how to host the talk show.  Jeff feels very lucky that Survivor has been pretty free of meddling by the networks over the years.
Jeff turns the tables on Rob and asks him to critique him as a Survivor host.  Rob says that we need to have more inappropriate comments and Jeff says that he loves to do it if he can.  Jeff cites some of his critics and brings up when he said that Penner was in trouble at tribal council and wants to know if that was over the line.  Rob says that Penner playing the hidden immunity idol felt like that was a smoking gun and the only clue he had was Jeff's comment.  Jeff says that he says things like that to all of the players but the editors only show the footage that is relevant to the story.
It's the Jeff Probst interview that you've been waiting for.  Thanks so much to Jeff for finally coming on to talk about Survivor and coming through on his promise to join us on Rob Has a Podcast.