On this week's episode of The Glass House, Rob explains why Stephanie Link may have made the smartest game decision of the season by deciding to quit the Glass House to take home over $37,000. Stephanie accepted the offer of prize money to leave the game in exchange for allowing an evicted player return to the game, either Joy Glass or Mike. After Stephanie won the money, Mike returned to the game.
This week Jeffrey and Gene recieved the fewest number of votes and became captains in a challenge where the players could either give themselves money or help out their team. Jeffrey, even though he was captain, elected to give himself as much money as he could. On Gene's time, Mike also tried to collect as much money as possible, resulting in Gene's team losing the challenge.
In addition to Gene being sent to limbo, the house had to decide on one other person to go up against Gene, either Mike or Erica. Since the house felt like Mike could lose to Gene, Jeffrey, Mike and Amanda voted to send Erica into limbo where America will decide who returns to the Glass House.
Plus, breaking RHAP news as Jeff Probst announces on twitter that he will appear on Rob Has a Podcast.
[audio:http://traffic.libsyn.com/robcesternino/20120806-glass-house.mp3]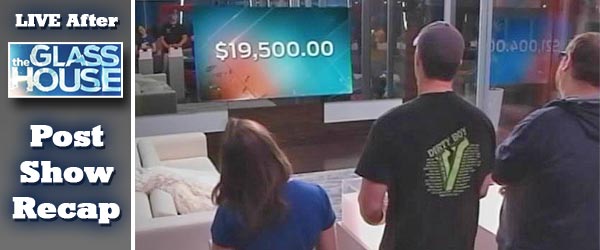 Why Stephanie Link was smart to take the money and run from the Glass House on ABC[/caption]