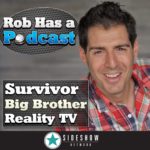 CLICK to Subscribe to Rob Has a Podcast on iTunes[/caption]
Rob returns from las vegas after picking up two podcast awards and is joined by Nicole Cesternino to welcome the return of the Friggin' 5 for the first time since June 2012.  For new listeners, A Friggin' 5 is a podcast where Rob and Nicole cover the 5 most interesting stories happening in the world.
LISTEN TO ALL OF THE ARCHIVED FRIGGIN' 5 PODCASTS
Rob starts out by giving everyone a recap of his weekend at New Media Expo and the Podcast Awards in Las Vegas.  Rob explains why it was the RHAP community is really the thing that should be recognized.  Since we won the awards, Rob turns his attention to the big survivor roast for the fans of the podcast, he even name drops the names of some other roasters for the big night.
There's also a few days left to vote for RHAP at the Stitcher Podcast Awards.  Rob is going to be going to San Francisco to attend the award and wants to know if any Bay Area member of Rob Has a Planet want to meet up on the night of the Awards, January 30th.  If you're interested shoot Rob an e-mail.
Friggin 1: Celebrity Apprentice News (Starts at 22:21)
Rob and Nicole discuss all of the drama swirling around Dennis Rodman and his latest trip to North Korea.  The former Celebrity Apprentice alum fought with CNN's Chris Cuomo on National TV, sang happy birthday to North Korean dictator Kim Jung Un and caused an international incident regarding the case of the imprisoned American, Kenneth Bae. Next, Rob and Nicole discuss the veracity of a rumored cast list for the Celebrity Apprentice's 2014 season.  The news outlet is called @LegitamnetNews and is claiming the following tweet means that Donald Trump confirmed the news.
Friggin 2: Weird Inventions from CES (41:42)
Rob talks to Nicole about CES (consumer electronics show) which just happened in Vegas and plays a game with Nicole. Listen and/or Play along yourself and see which new inventions are real or fake.
Friggin 3: Big Brother Drama (56:12)
Rob and Nicole discuss Evander Holyfield on Celebrity UK and Holyfield's offensive comments. The Evander Holyfield situation became instantly more unfortunate when Big Brother 15's Aaryn Gries commented on it to TMZ.
Rob and Nicole then discuss the rumor of Amanda Zuckerman and McCrae Olsen getting engaged before Amanda chided internet followers to not believe everything they read on social media (even though it came from her). Lastly, Rob's eyebrow is officially raised after watching Amanda (BB15) and Gina Maria (BB15) get pulled over by the police in a video posted to Amanda's youtube channel.
Friggin 4: The Week in Stupid News (1:10:55)
First, Rob and Nicole celebrate Juanuary as they talk about a bachelor controversy. Find out why Kylie Lewis, one of the recent bachelor rejects, is so upset with bachelor producers. Then, Rob and Nicole discuss the case of a man who allegedly murdered his step-father by giving him an atomic wedgie. Lastly, a New Mexico woman fought with her husband about space aliens and threatened him with a gun that was someplace it shouldn't be.
Friggin 5: Your Questions and Coments (1:22:30)
Its time for your comments and questions. In the battle of a wrecking ball, would it be Tyson or Miley in the year of 2013? Rob and Nicole talk about everything from Chris Christie, Nicole's make up routine, Luke Bryan, Brandon Hantz's latest love, and more.
Special Thanks to Aaron Robertson (@Spi7Fan) for all of his musical creations and Jessica Frey (@JessicaNFrey) for putting together this episode summary for the post.
Show Links:
Tickets to Rob Has a Roast – Come out and see Rob at the Survivor Roast on January 26th at the Hollywood Improv
RobHasAwebstie.com/Patreon – Watch Rob's video talking about how to support RHAP using Patreon
RobHasAwebsite.com/StitcherAwards – Vote for RHAP once a day for Best Entertainment Podcast through Jan 13th
Squarespace.com – Save 10% on a new account with promo code RHAP1