Last season Corinne Kaplan joined the Survivor South Pacific Preview show to give her first impression on the new crop of Survivors. This season, Corinne gets her own podcast to give her brutal first impressions of the Survivor One World players.
Corinne hasn't watched much Survivor since Survivor Gabon, but that doesn't stop her from having plenty to say about this new batch of Survivor One World players. Join Rob and Nicole as Corinne roasts the new cast of Survivor before they even get started. While Corinne managed to get through the Survivor South Pacific preview without terribly offending anyone, this time she's raising the stakes.
Be sure to join Rob and Nicole with John Cochran from Survivor South Pacific on Thursday, Feb 16th for the first episode of Rob Has a Podcast for Survivor One World.
[audio:http://traffic.libsyn.com/robcesternino/2012-02-04-corinne.mp3]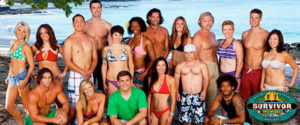 Rob and Nicole's Original One World Prediction Show
Rob and Nicole will go through all 18 new Survivor players with predictions on each one and try to determine who will win Survivor One World in our official cast assessment podcast.