Brian Cohen talks with the Latest Player Eliminated from
The Challenge: Free Agents
, Cohutta[/caption]
In the latest edition of The Challenge: Free Agents RHAP-up podcast, Brian (@busdriversroute) is flying solo as he speaks to the latest person sent home Cohutta.
After taking a few seasons' hiatus away from the show it was great to have the southern charmer Cohutta back in The Challenge landscape. He brings a certain level of class and intelligence that we aren't used to seeing amongst all the drunken rampage, so it was really a breath of fresh air to get his take on the major events of this season.
Normally Cohutta is someone who simply focuses on the competition aspect and stays out of most of the relationship drama, but this time around he was deep into it with his relationship with Nany. It was interesting to hear his take on everything that went down between Nany and Johnny and how he handled it all.
Since Cohutta has such a level head it was fascinating to hear his thoughts on the big Cara Maria and Laurel fight from this week and hear why he thought the fight escalated so much. His feelings on pride and integrity also connected to his take on whether it was a stupid move or a brave move for Jordan to throw himself into elimination against Bananas.
There was a lot to cover with Cohutta but here are just some of the questions that we were able to tackle:
Was his hiatus from the show over the past few seasons by choice or did MTV not call for a few of them?
Since he hadn't done a challenge with so many of the people this season did he feel like a rookie all over again?
Did he and Johnny ever hash things out to clear the air either in the house or afterwards?
Did he think Nany did all she could've done to try to keep his name out of elimination this week?
How powerful was the Boston Strong alliance to keep Johnny out of any talk of being thrown in?
Was there anything, looking back on it, that he wishes he had tried in the elimination loss to Leroy?
Was he frustrated by the lack of the diversity in the eliminations being that most of them are geared toward the larger players?
What did he see as the main reason that the fight between Laurel and Cara escalated to where it was?
How did he feel about Jordan's move to send himself into elimination?
Now that he's back in The Challenge community will he continue to do more seasons in the future?
We were even able to touch on his band Radiolucent and so much more from this season of The Challenge: Free Agents.
Be sure to stay tuned later this week as Brian and Ali (@lashtweets) are back at it to recap the latest episode of The Challenge. Also stay up to date with every podcast by subscribing to The Challenge only feed of Reality TV RHAP-ups at robhasawebsite.com/challengeitunes.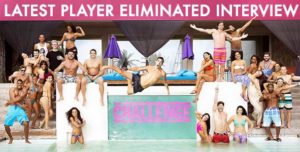 Subscribe to Reality TV RHAP-ups