Once again, Curt Clark (@curtclark) and Malory Beazley (@malorybeazley) cover all the goings-on in the always-eventful Celebrity Big Brother UK house.  This time they chat it up about Week 3 events…from Katie Price's initial days in the house through the eviction of the Alicia Douvall (the second eviction of the series)!  They discuss:
The four housemates facing eviction (Alicia Douvall, Nadia Sawalha, Perez Hilton and Calum Best)…and whether Malory and Curt were surprised that Alicia ended up being the one evicted
Katie Price's decision to save Katie Hopkins from the chopping block (and replacing her with Calum)
Alexander's self-eviction from the house early in the week, and the increasing tension with Perez that led up to it
What may have been the most fun set of tasks this series…from the Big Brother Cadets to the #MassDebate between Katie Hopkins, Michelle Visage, Nadia Sawalha and Perez Hilton
Curt's newly-found infatuation with Patsy Kensit
Drunk Kavana vs. Sober Kavana
Thanks for tuning in!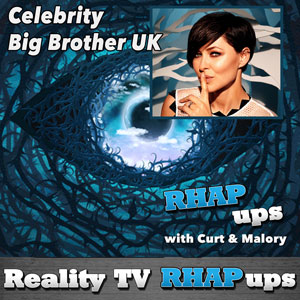 Subscribe to Reality TV RHAP ups
Follow Celebrity Big Brother UK all season long by subscribing to Reality TV RHAP-ups:   iTunes Link   |   RSS FEED