Rob welcomes back 2-time Survivor contestant, Kathy Vavrick-O'Brien to the podcast.
Rob & Kathy start the conversation by talking about how Kathy is doing and how she wants to return (with her son) to Survivor. They then proceed to talk about how Survivor approaches casting returnees/new player seasons. Kathy & Rob then delves into the evolution of challenges, editing, tribal council & the experience overall.
Rob then praises Kathy about her game play on Survivor Marquesas and asks if she has any regrets about the way she played the endgame. Kathy tells she feels she should have more ruthless. Kathy then goes into her vote in the end at final tribal for Neleh over Vecepia.
Rob and Kathy proceed to talk about the 3 tribe format, Survivor All Stars, Colby's struggle with insects, the story surrounding the smuggling of matches by Richard and how Kathy feels about Rob Mariano.
Rob then asks Kathy about nudity on Survivor and how she dealt with Richard walking around naked. Then Rob asks Kathy which Survivors she has stayed in contact with.
Rob then delves into the listeners questions from the RHAP community about if she prefers 2 of 3 tribes, her character type on the show, Sean Rector, race and religion on the show, the focus from editing on the show and drawing rocks.
Special Thanks to Owen Whiteley for tonight's episode recap
Vote RHAP at This Year's Podcast Awards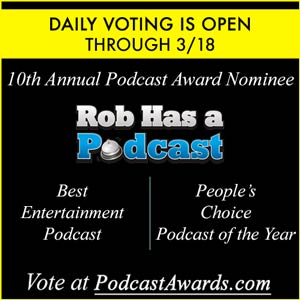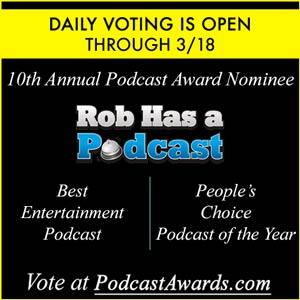 Subscription Options for Rob Has a Podcast: