When you think about what makes a successful Amazing Race team, it's easy to focus on physical skills. Taking a look at the list of winners, it's clear that youth and athletic ability are important for many of them. Even so, it's hardly the only important trait. There are some exceptions, but most winning pairs have a combination of these three characteristics: strength, excellent communication between them, and grace under pressure. The last quality is the most underrated part of this combination. We've seen plenty of imposing teams depart early because they couldn't focus when the game was on the line.
A relaxed attitude has been essential for the two winning teams on the Amazing Race Canada. Mickey and Pete didn't win a leg until the end, but they stayed cool repeatedly while others lost it. Tim and Tim finished last twice, but they responded with strong play to avoid elimination in the following leg. They were solid athletes but rarely dominated challenges. This version of the show regularly pushes its contestants with memory challenges that are deceptively complicated. If players don't think clearly, their strength or running speed means nothing. That trend has definitely continued this season.
This brings me to Dana and Amanda, who I picked to win the season. They seemed like down-to-earth people who were good friends and fierce competitors. All of those elements were present during their time on the show. What I couldn't predict was how they would respond to adversity. Instead of slowing down, they moved faster when stress increased. Last week's run up the mountain is a perfect metaphor for their entire game. They acted quickly and didn't stop to think about the consequences. I admire their perseverance in completing that run without a meltdown, but that moment raised warning signs about their potential to last much longer.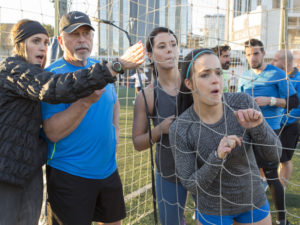 Dana and Amanda didn't learn enough from watching others at the soccer task.[/caption]
This week, Dana and Amanda made a critical error and didn't stop to consider the dangers of choosing the Dance option at the Detour. They knew that everyone but Brent and Sean was ahead of them, so the odds were good that six teams had reached a task. Judging by the descriptions, it was safe to guess that more teams would choose Dance. They briefly considered that possibility and then sprinted forward without giving it too much thought. It's good to make a decision and commit to it. However, the limited stations at the Detour made this a rare case where taking a minute could have saved them. The Dine option was difficult for them, and they barely fell short in the end. Time was at a premium because the teams were bunched so closely together, especially near the back of the pack.
The Saga of Nic and Sabrina
We saw a lot of Nic and Sabrina this week, and it was nearly our last time with the couple. They finished eighth but squeaked by after willingly taking a two-hour penalty. Sabrina's skills in Argentinian Spanish gave them a huge edge, but that wasn't enough to avoid an epic five-hole collapse. Apparently Nic's training as a professional soccer player didn't include blindfold practice. What stood out during this moment was how poorly the couple worked together during this extra task. Nice lost his focus, but her directions were hardly effective. They also failed at remaining cool under pressure, and the two-hour penalty nearly expired as teams kept arriving at the mat. They've benefited greatly from Sabrina's language abilities, so returning Canada might be serious trouble for them.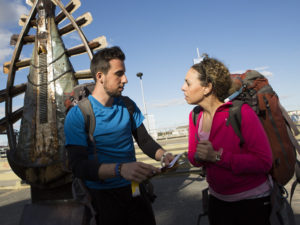 I can't understate the benefit for Nic and Sabrina this week. While Dana ran into crowds yelling "English! English! English!", Sabrina could focus on completing the Roadblock. Understand how words are pronounced also helped with the Dine option. Even so, obstacles remained that could have ended their race. Choosing to take the penalty felt like a good strategy for staying alive, but there were unknowns. The Detour was tough but didn't take an extreme amount of time. If they'd taken a breath and thought about how many tries they might get in two hours, taking a penalty would have felt riskier. Watching "The Hop" and other strategies would have made it easier too. This challenge was very difficult, but others broke it and found ways to move forward. Nic and Sabrina showed that ability on previous episodes, but the shock of failing at a soccer challenge pushed them off their game.
It's easy to sit at home and believe we wouldn't break down in the face of stress. Personally, I'd have meltdowns every week if I was on The Amazing Race. The producers always look for ways to test the racers' mettle. There are few cakewalks, especially this season. Hopping around blindfolded with the ball seemed tougher on the surface, but it simplified the task. With the ball taken out of the equation, the only trick was following the right path. It also sped up the movement so teams wouldn't keep taking too long. It was a brilliant move from the wrestlers, and they're definitely a team to watch after finishing third in this leg.
A Very Different Style
Neil and Kristin won the leg, and they really stood out for the first time. The prevailing factor was how well they communicated and maintained their cool. I expected Neil to be more of a taskmaster due to his background as a football coach (and player). Instead, his strong relationship with Kristin has helped them to do well. They don't panic and found a clever way to grab an edge at the soccer challenge with the clock system. When the tango stymied them, panic never set in while other teams arrived. Kristin wisely recognized that leaving might create problems if Dine was too difficult. They might suffer the fate of Dana and Amanda (and Simi and Ope) and not have a chance to tango. Kristin really stood out as a player and might even have a shot at talking Hamilton and Michaelia into giving up their Express Pass.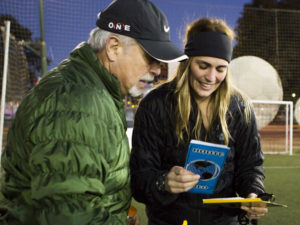 Brian and Cynthia have employed a similar low-key approach, and it led them to a second-place finish last week. Although they barely survived this time, I still think it's the right strategy. They need a bit more urgency to finish tasks but recognize they can't sprint everywhere. The difference here is a bit less awareness of how the game functions. Cynthia didn't consider that pushing back against Hamilton's request for help might lose the Express Pass. What's interesting is that she was working with Neil, and he didn't face the same consequences. Alliances have limited use in this game (and sometimes hurt you), but building good relationships is wise. Three pairs worked together to complete the Roadblock, and I expect some future tasks will reward cooperation. When you add U-Turns to the mix, treating others poorly is rarely wise. Cynthia's point was valid, but her delivery needed some tweaks.
Simi and Ope had some bad taxi luck this week, and some teams would have broken down by that point. They haven't rocked too many tasks yet still have finished comfortably in the first three legs. They also played the Detour shuffle and amazingly ended up in fifth. I have my doubts they're real contenders, but the strong father/daughter bond shouldn't be discounted. They seem thrilled to be having this experience, which helps to deal with tough setbacks. It's easy to root for Simi and Ope, and I'm hoping they surprise me and go far. It's nearly impossible to predict what will happen, and constant shuffling within the legs is leading to great entertainment.
Heading Home
Teams are heading back to Canada next week, so it feels like the right point to analyze the show's first jaunt into South America. The two episodes in Santiago and Buenos Aires were thrilling and had little consistency in team placement. The extra Route Marker tasks allowed for more diversity with both tasks and cultural experiences. The legs were grueling tests of mental skill and dexterity that didn't give physical teams a huge edge. The episodes flew by and barely took a breath right up to the end. It's hard to complain about an episode that had the final three teams checking in right on top of each other.
There was a bit too much similarity between the two legs, however. Each one began with all teams boarding a flight and landing at the city on equal footing. After navigating the city, they faced a Roadblock and then faced a tougher extra task. The Detour options involved either dancing or memorization in both cases. This is a basic description and doesn't mention the Express Pass or the stop at the Plaza Canada for the story of the totem gift. It's just an observation of a slight dip in diversity of tasks. It's more a race design issue than an entertainment one; both episodes were so much fun! I expect this was an exception, and we're in store for great things in the upcoming weeks.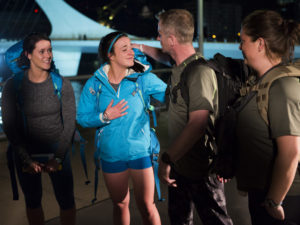 Who has the edge next week in Halifax? Gino and Jesse should be more comfortable in their home country. They struggled with navigation and the language barrier once again this week. They may have finished second but hardly ran a flawless leg. Nick and Matt have been the most consistent team, and Neil and Kristin proved they're a force with the victory. What's less clear is which other teams are real contenders. Dujean and Leilani shined in the dance challenges but can't expect them every week. Hamilton and Michaelia have the Express Pass but may see little benefit from it. There have been a lot of surprises in the first three weeks, and I foresee many more in the future. We're just getting started, and the potential is there for an exhilarating season.
I'll close with a quick programming note about this blog. Jessica Liese is currently traveling the world but will return to blog about episode 5 and the rest of the season. I shall return next week to delve into everything that happens as the racers head back to Canada. You should also be listening to our weekly recap podcasts, which dig even further into everything that's been happening each week. Mike Bloom subbed in for Jess this week, and we had a lot to say about this surprising leg.