RHAP Nation, I have a confession to make. Though I understand that most of you know me as the go-to person for all things Amazing Race, I did not begin my reality-show-watching habits as a devoted TAR fan.
Much like Rob was primarily a Big Brother fan who ended up a contestant turned Survivor Know-It-All, I began my own love affair with CBS reality TV as a Survivor fan. TAR was incidental watching, the sort of thing I'd have on in the background while I did laundry.
And then, sometime around the first All-Star season, I started paying closer attention, and I thought it might be fun to watch the finale with some other fans. So I went to TARCon, not really knowing anything about it beyond the fact that it'd be people who liked the show watching it together in a bar.
Well, as you know, it was much more than that, and not just because actual Racers showed up. My fellow fans were an amazing, eclectic, hilarious, and welcoming bunch, and I immediately knew they were my people, and this was my show. Between seasons 11 and 12, I rewatched every season so I'd be up to speed before the next TARCon. Every single one. And by the following season, I was as much of a diehard as anybody else in the room. (I'm a quick study.)
Certain elements of pop culture have a way of uniting awesome people more cohesively than others. (I personally know of at least three international marriages that have come out of a particular Elvis Costello fan community.) I don't know what the common denominator is, or why some things can do this and others can't, but I am lucky to have found a few of these communities and to have met cool people who not only helped me increase my love of the thing that brought us together, but also ended up becoming lifelong friends whose common ground goes way beyond our one shared interest. TARCon pals attended my 30-guest wedding in the Caribbean – enough said.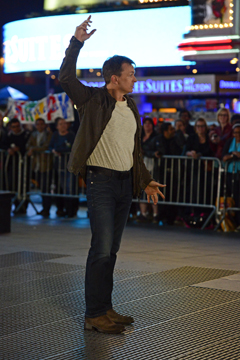 Phil's Finger[/caption]
Why am I telling you this? Because I think this season, 24 seasons in, CBS has finally figured out what a unique fan community has formed around TAR. They know that they need these fans in order to keep the show going, especially with the move to the dreaded Friday night death slot. And so, this premiere — and, hopefully, the entire rest of the season — feels like it might be a love letter to the fans of this great show who have been responsible for making it even greater, and a return to all the things that made us love it years ago.
In previous seasons, the only time we've ever had any indication that the Race we're watching was not the only Race that's ever been run has been during All-Star seasons and the occasional Switchback (which always seemed less like "honoring a popular task from a previous season" and more like "we can't be bothered to think up a new task").
It turns out that the right way to do fan service for this incredible group of devoted fans is not actually to bring back Flight Time and Big Easy for a third time, but to fit a season into the bigger puzzle of TAR's rich back catalog, right alongside broken oxen, flying cheese, and all those other fun and good things that have kept this amazing group of fans coming back for thirteen years. I mean, why NOT try to make a show for this kind of Race fan? Maybe it's time to consider what will make those who love it best happy, and move outward from there, rather than the other way around.
Not only did we get a lingering flashback to the very first starting line and a bunch of ex-racers called out in the crowd, we got repeated references to previous seasons and an overall return to good old-fashioned racing. (From the previews, it looks like next week's got a big TAR3 shout-out, too. If the entire show turns out to be a Greatest Hits with Switchback after Switchback, honoring the series's best moments…well, that's different from mindless recycling, and I, for one, would love to see it.) And I don't think it confused casual viewers. So what if someone who started watching the show in the Jet and Cord era isn't going to know who that guy was helping the Racers find the season one finish line? We do. (FYI, it was Frank, who took home second place in season 1. If he doesn't know where that finish line was, nobody does.) Everyone else sees a nice, helpful gentleman pointing the Racers toward Flushing Meadow. No harm, no foul.
And as for the actual first leg? Well, despite the fact that it seemed a little lacking action, and the endgame looked an awful lot like the first leg of Season 22, it still felt like a great start, and something worth watching for diehards and non-diehards alike.
Though a few teams seemed a little gimmicky, there seemed to be a marked uptick in the number of regular folks over other recent seasons. In particular, I am happy to see multiple teams of smart, fit, capable women who defy the usual cookie-cutter model of identically-hair-colored, expertly made-up pro sports cheerleaders and/or Pageant Patties.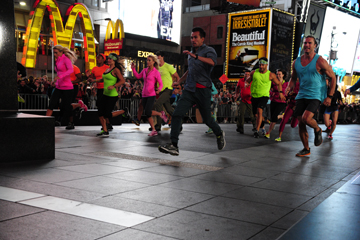 And speaking of That Team…the less said, the better. From the minute they started going all grabby-hands at the sign-up board, I knew Lisa and Michelle were cruising for some karmic retribution. It was yet one more pleasant surprise to see that they got it almost immediately, and the number-one real estate team in Miami turned out to be the number-eleven team in the Amazing Race.
As for the struggle with the firefighters at the final cab, I can't say I'm totally team Michael Scott either. Though it was clear it was rightfully their cab, they were a little rougher than they needed to be, and since they'd spent the entire second half of the leg bitching about how the girls stole their pen, they weren't exactly heroic figures either. Really, anyone who participates in a triple-quit on the first leg has a lot to bounce back from.
But enough about the teams who came off badly. Who came off well? This early, it's hard to get to know everyone, but Adam and Bethany, Tim and Te Jay, and Robbie and Brooke all seemed to be getting the kind of edit that says either they're going far or they're an early focal point that's destined to fizzle out early on. Adam and Bethany were as solid as I expected they'd be, Tim and Te Jay were shockingly adept, and instead of being self-obsessed and intimidating, Robbie and Brooke had fantastic attitudes and senses of humor. Most of the rest of the non-back-of-the-pack teams got a couple of minutes of air time and that was it. I am hoping to see more from my pre-season cheering picks Amy and Maya and Shelley and Nici in the next episode. Given the wide range of personalities we've seen in the teams who HAVE gotten air time, I suspect there are very few duds in this cast. Yet again, I have to think Bertram and Elise are finally trying to play to their core audience.
Finally, much as it pains me to say it, scary dentists Jim and Misti ran a flawless leg, and I can tell they're going to be forces to be reckoned with. As terrified as I am of their tans and teeth, I have to give them credit for their agility, speed, and problem-solving skills (Jim's especially). This team has Dave and Rachel's intensity without all the uncomfortable yelling. If you'll excuse me, I have to go brush and floss a whole bunch of times now, just to make sure I never have to face these guys' wrath.