Matt Liguori analyzes the Survivor: Island of the Idols cast each week to pick out which players make up his top three and bottom two, as well as identifying one player we should keep an eye on.

Survivor: Island of the Idols Week 8
---
Previously on… Sur54
Usually, a two-hour Survivor night is one of the highlights of the season. It goes without saying, but that certainly wasn't the case this time. It's taken a while to process everything and I'm sure that's the case for many of you as well. It's not easy, but it's been heartwarming to see the community come together to discuss the episode and comfort each other. This episode was no fun and it's hard to take such important discussions that are happening and shift gears into talking about strategy/game positioning, but I'm hoping we can find a way to do both.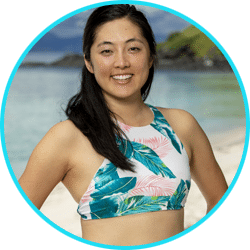 Over the course of the two-hour episode we lost both Kellee and Jamal, two of my favorite players this season. The respect I have for both of these two as not only Survivor players, but as human beings is beyond words. Survivor would be crazy to not call both of them back for a future season. The most crushing part of their eliminations is that just when some important conversations are ramping up, two of the most intelligent people in the cast are now on the silent jury-bench until finale night. Ugh. I'm looking forward to hearing more from them once the season is over.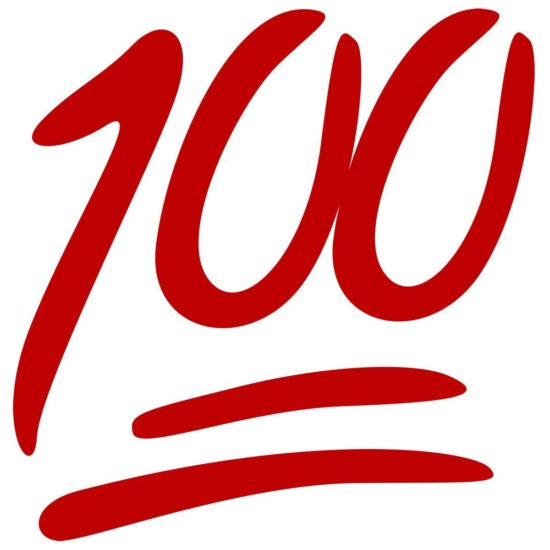 The blog you're reading here today just so happens to be my 100th blog with RHAP. It feels like just yesterday when I was putting together my first ever set of Power Rankings for Big Brother 19. I've had such a fun time writing these blogs every week and I can never thank you all enough for reading along, from the Power Rankings to the SUR54 3-2-1 (such a silly name, but how could I not stick with it?) – you all are the best!!
This isn't the most ideal week for celebration but I sadly didn't have much control over the timing here. Plus, with Dan still in the game I have no way to know for sure that next week will be any better even if I had decided to delay this one week.
So to celebrate #100, I thought it only made sense to bring back one of my most popular (and most frequent) guests over the past few years… the woman who was my guest all the way back on blog #1, the great Liana Boraas! This marks the sixth time Liana has joined me to provide rankings of some sort and it's a treat to get her thoughts every time. Of course, make sure you're checking Liana out over on the RHAP BnB playing some games with Mike Bloom every week!
Follow Liana (@LianaBoraas) and myself (@mattliguori) on Twitter and let us know what you think of our picks!
---
REMINDER: Rotate your phone sideways to read our thoughts side-by-side!
[one_half padding="0 10px 0 0″]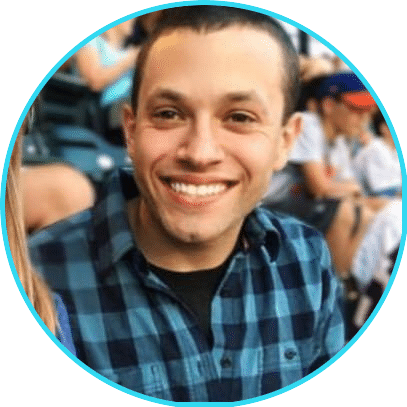 Matt
[/one_half]
[one_half_last padding="0 0 0 10px"]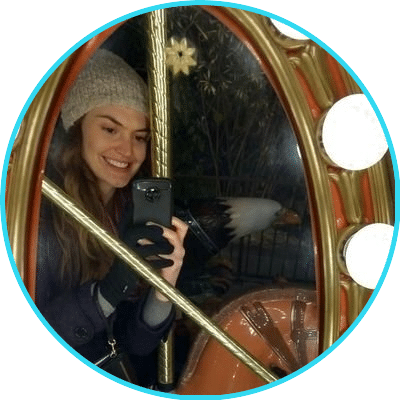 Liana
[/one_half_last]
---

---
[one_half padding="0 10px 0 0″]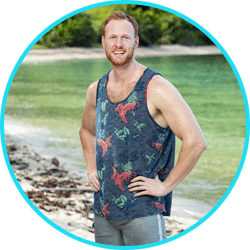 Tommy
I surprised even myself last week when I wrote up an entry for Tommy to be in the bottom two. With Jack's elimination and Tommy having no control over the direction of his swapped tribe, the wheels were starting to come off the #ThomastheTrain.
Tommy and Lauren sticking with the Lairo four proved beneficial thus far. They've found themselves in the majority to skate past a couple of rounds that are always super dangerous after a merge. Tommy has Lauren locked in and it seems like Janet is working towards trusting him again, leaving him with a door open to Noura and Karishma if that route is needed anytime soon.
[/one_half]
[one_half_last padding="0 0 0 10px"]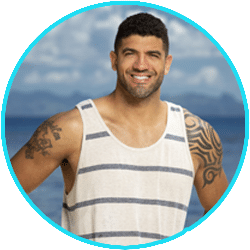 Aaron
Aaron won two immunity challenges this past week. While it's become incredibly difficult to go on complete immunity challenge runs, this is a pretty good start. Aaron also hasn't been discussed as a threat due to his challenge prowess (not yet at least). He's in the majority alliance and had ties to both old Lairo and old Vokai. He's come a long way from the Ronnie blindside due to his strength in challenges and his strong social game. Plus, who doesn't want to vote for someone with kids on their socks?
[/one_half_last]
---
[one_half padding="0 10px 0 0″]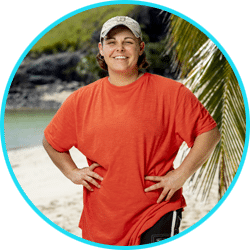 Elaine
Elaine gets points from me this week solely for the fact that she's one of the few players who was out-of-the-way of all the erratic gameplay. The rest of Elaine's original Lairo alliance (Missy, Aaron, Elizabeth) are all bigger targets at this point because they're so obviously close and I think that puts Elaine in a great spot to last deeper into the game. She seems like the fourth wheel, which usually wouldn't sound good but actually might be the perfect place to be.
[/one_half]
[one_half_last padding="0 0 0 10px"]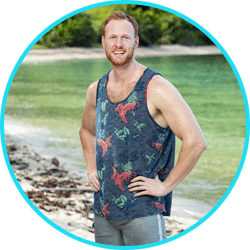 Tommy
Tommy and Lauren were in the power position this past week siding with the new majority alliance. While both were in hot water from the minority, Tommy seems to come away from this without any blood on his hands. Tommy has the ability to walk the thin line between both sides of the alliance and make it deep into the game. While his tight partnership with Lauren may put a target on their backs, it seems like Lauren will be the one to take the first hit. Tommy's only enemy at this point is the sun.
[/one_half_last]
---
[one_half padding="0 10px 0 0″]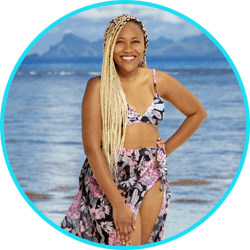 Lauren
Lauren found a way to take back control of her game after watching it slip away at the Jason vote. We know how tight Lauren is with Tommy, but from the first hour last week it's clear she's just as close with Missy. The move to take Kellee out only happened because Lauren was told the plan to blindside Missy and found a way to stop it.
Lauren and Tommy may have broken off ties with the original Vokais, but I think they're still in a position to have that option to fall back on. Where else do Noura, Janet, or even Karishma have to go at this point?
[/one_half]
[one_half_last padding="0 0 0 10px"]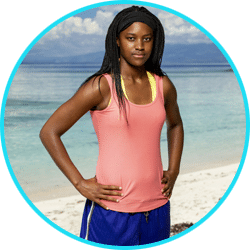 Missy
Like Aaron, Missy seems to be in tight with the majority alliance. She was the one calling the shots this past week and was able to get the vote off of her and onto Kellee. If she can maintain this power she's in for a deep run. However, due to the events of this past week she might not be the darling of the jury. That being said, there's still a lot of game to be played (11 jury members!!!). Missy also won immunity this past week beating out a former Olympian, which has its pros and cons. At least she got to wear that ugly immunity necklace!
[/one_half_last]
---

---
[one_half padding="0 10px 0 0″]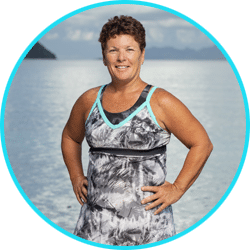 Janet
Yeah, there's no getting around it. Janet's at the very bottom right now and getting back into any sort of comfortable spot will be a challenge. Janet will forever have mine and all of our hearts for all she did this week to do the right thing, but I'd be a fool to not be extremely worried about her place in this game as a result of that.
Janet isn't drawing dead. She still has Tommy as somebody she can potentially trust and I hope he sees the value in keeping her around. Janet needs the big alliance to implode sooner than later so she can slip by a vote or two and regain some footing. In the meantime, I'm forced to accept her fate down here at the bottom.
[/one_half]
[one_half_last padding="0 0 0 10px"]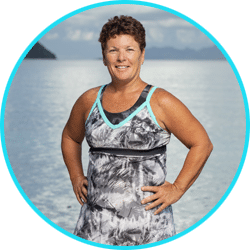 Janet
Look. I love Janet, you love Janet, we all love Janet. BUT even I have to admit that her chances don't look great. Being one of two outcasts this merge alongside Karishma, Janet has an upward hill to climb. She also used an idol last tribal which likely makes her seem the bigger target to look out for. I want Janet on my TV screen for the entirety of the season, but unfortunately could see that dream turn into a nightmare as soon as this Wednesday night. Did I mention that I love Janet?
[/one_half_last]
---
[one_half padding="0 10px 0 0″]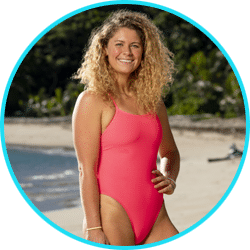 Elizabeth
Looking at Elizabeth's overall game, I see absolutely nothing I find even slightly impressive. Elizabeth is close with Missy, Aaron, and Elaine and that's all she has going for her. It may look like she's sitting in a decent spot but other players will want to start taking shots at the Lairo four soon. Aaron and Missy have formed relationships elsewhere while Elizabeth seemingly has not, making her the easiest first person to pick off from that group. Even if she somehow makes it to the end she's not getting the votes to win, and after seeing how things went down this week I'm not the slightest bit upset about it.
[/one_half]
[one_half_last padding="0 0 0 10px"]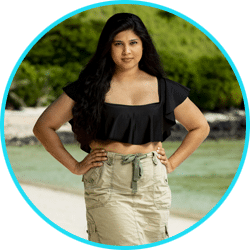 Karishma
Karishma is in the bottom two for similar reasons as Janet. Uniqueness is something Karishma has in spades but sadly in this situation it puts her on the outs. Nerves to stand up to the majority must be a requirement for her job; in Survivor however, this is an easy way to find yourself in the bottom. Talent to make it out of the bottom is a rare tool in one's arsenal and unfortunately, as much as I want to, I just can't envision a world where Karishma can successfully pull it off. Taken together, hopefully Karishma can use her Uniqueness, Nerve, and Talent to make it further in the game.
[/one_half_last]
---

---
[one_half padding="0 10px 0 0″]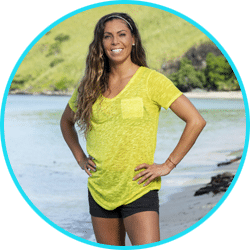 Noura
A bright light amongst the darkness in the Survivor world right now… this week's one to watch is Noura. Right now Noura sits outside of the numbers, having received some votes at this past Tribal Council. But it's insane to think Noura is anywhere near the biggest threat left out there. She certainly may be in danger if the current majority alliance insists on going far as a unit… but based on next week's preview it does seem like there are cracks for her to continue to slip through.
[/one_half]
[one_half_last padding="0 0 0 10px"]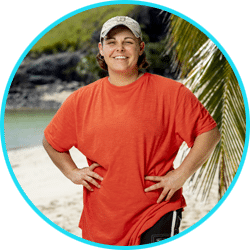 Elaine
Elaine got VERY little content this past week. The edgic, aka edit + logic, reader in me has to think this is because she was being shielded from all the negativity. In my book, this makes her a prime player to watch. She's been in sticky situations a couple of times this season and has been able to navigate  her way out of those time and time again. With the endgame approaching, Elaine is sitting in a strong position to become what Ronnie tried to warn everyone about. She just needs one or two moments to shine and could steal the show. She has a strong stake in this game, and we know she likes steak (om nom nom).
[/one_half_last]