Just when I think I'm out, Chris Harrison pulls me back in.
The bios for the 30 bachelorettes vying for the corn fed heart of Bachelor Chris Soules (How many clichés will ABC get out of that name?) were recently released. And, like a chump, I just had to take a peek.
Next thing I know, I'm doing my best Shallow Hal and evaluating each of the 30 ladies based solely on one airbrushed photo and a questionnaire that asks hard hitting queries like, "If you could be any animal, what would you be?"
I wish I could quit you "The Bachelor!" But alas, since I cannot I might as well poke fun at you.
While I'd like to discuss all 30 women, experienced viewers like ourselves know that Prince Farming (Soules's cheesy ABC given nickname) could toss at least 20 of these ladies out on night one. Any person's brain, when faced with so many choices, would mentally start to eliminate potential mates with even the smallest flaw. It's science. Just ask Leo DiCaprio. So I'll focus on who I have shallowly determined are the 10 most interesting characters based only on their bios.
I'm also not going to dive deep into the Chris Soules cornfield. There are a couple of reasons for this. First, he's about as interesting as belly button lint. Oh sure, he's a "catch" since he's good looking, has a job, an education and speaks in complete sentences. But he's also like every other Bachelor we've seen before. In fact, he's so Bachelor-y I'm pretty sure he came from a mold of former Bachelor Sean Lowe.
Second, the Bachelor is never the actual star of "The Bachelor." The true stars are the 30 lunatics who signed up for the privilege of competing in a man's dream scenario while overusing clichés about love and saying horrible things about other people that they'll later regret all while consuming too much alcohol and ironically wearing bridesmaid dresses to cocktail parties.
What kind of hand have we been dealt this season? There are a lot of ladies who love "The Notebook" (shocker), dolphins (they're so smart!) and have a fear of violent diarrhea (I'm not kidding, it was the #1 biggest date fear).
Enough jibber jabber. Let's get to the 10 most interesting ladies.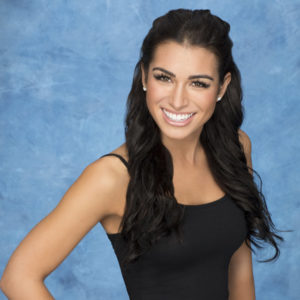 Ashley I. "The Gold Digger"
Age: 26
Occupation: Nanny
Hometown: Wayne, NJ
Height: 5'6″
Tattoos: None
Can't live without: Sister and parents, best friend, foundation and mascara
Biggest date fear: Awkward silence, which is different from silence
Why she can win: Ashley says if she really wanted to impress a man, she would "make him amazing cheeseburgers and watch football with him because that would be fun for me and him. Plus, my football knowledge is impressive." That sounds great to me. Personally she'd have to take a serious of quizzes to prove she actually IS a football fan, otherwise she wouldn't get a rose. But I'm tough like that.
Why she can't win: Her worst date was when, "I decided to try out being a cougar, but he was sooo immature and had me pay for everything. He was too intimidated to hold a conversation." Ashley is 26, so does that mean when she was being a cougar she was dating an 18 year old? Younger? And does she think dating 33-year old Chris Soules is dating a geriatric? Is she a gold digger hoping Chris keels over so she can inherit his farm? I'm sensing another Anna Nicole Smith scenario.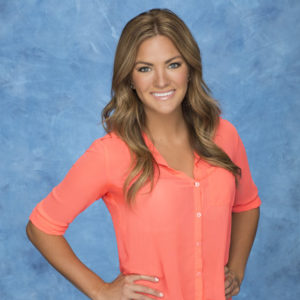 Becca "The Front Runner"
Age: 26
Occupation: Chiropractic Assistant
Hometown: San Diego, CA
Height: 5'5″
Tattoos: Two
Can't live without: Food, family, friends, Wi-Fi, Netflix
Biggest date fear: Having stomach issues and clogging up a toilet, a la "Dumb and Dumber"
Why she can win: She has a sense of humor! Look at that biggest date fear! Hilarious! Also, check out her most embarrassing moment – "once I was getting gas and the guy asked, 'What kind of gas do you like?' and I thought he asked 'What kind of guys do you like?' I responded, "Tall, dark, and handsome." He just stared at me and repeated the question." Plus, she has family in Louisiana so she has some country roots, something Chris is sure to like.
Why she can't win: She lives in San Diego. Would you trade sunny California for BFE Iowa? That's a lot to ask.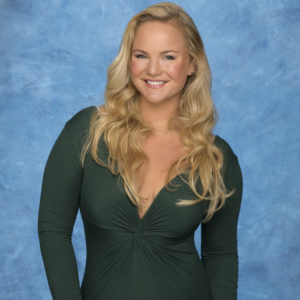 Bo "The Fan Favorite"
Age: 25
Occupation: Plus-Size Model
Hometown: Carpinteria, CA
Height: 5'9″
Tattoos: Two
Can't live without: Food, exercise, water (i.e., the ocean), family, friends
Biggest date fear: No fears. I love being open to new experiences.
Why she can win: She's brave! Look at her biggest dating fear, she doesn't have any, she's like "The Bachelor" version of Daredevil. Also, to be a plus-size model on this show you have to have stones the size of…um…boulders. Good for her. Fans of this show are going to love her.
Why she can't win: She's a model. What is she going to do in Iowa? Model John Deere tractors?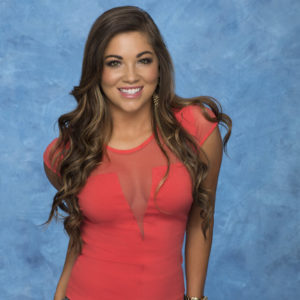 Brittany "The New Michelle Money"
Age: 26
Occupation: WWE Diva-in-Training
Hometown: Orlando, FL
Height: 5'4″
Tattoos: Two
Can't live without: Family, laughter, the ocean, chocolate, reading material
Biggest date fear: Gas or violent diarrhea
Why she can win: I'll be honest; I don't see any possible way that a woman training to be a professional wrestler can win this thing. However, she can certainly make things interesting. She's a professional wrestler, so she has to be hyper competitive. Women are competitive with each other by nature, so imagine how aggressive a female athlete would be. Also, men are really attracted to women with confidence. Considering her job, I bet she has quite a bit.
Why she can't win: I did mention she's a professional wrestler, right?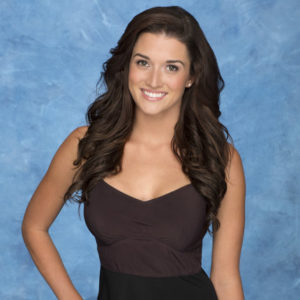 Jade "The Smart One"
Age: 28
Occupation: Cosmetics Developer
Hometown: Los Angeles, CA
Height: 5'4″
Tattoos: Two
Can't live without: My dog, my car, my family, avocados, books
Biggest date fear: Having to tell someone there's no chemistry
Why she can win: She's intelligent! Look at her answer to what animal she would be – "An elephant. They are associated with wisdom and altruism. They are large in scale yet graceful. I love the matriarchy as well." Look at that! She used the words "altruism" and "matriarchy." I'm not sure what those words mean or how to pronounce them but they look impressive. Someone either used her Dictionary app on her iPhone when filling out her questionnaire or has a large vocabulary. And contrary to popular belief, men find smart women sexy. At least men with half a brain.
Why she can't win: She's too intelligent. Look what fictional character she'd want to be –  "Jane Eyre. She's admirable, a heroine that relies on herself to get back on her feet. She's complex and passionate." All right smarty-pants, that's enough of that. Don't make me feel stupid for wanting to stay home and watch Peyton Manning throw touchdowns instead of going to some art house film to see the latest Wes Anderson "film." Sometimes a guy just wants to wear sweatpants and eat Doritos.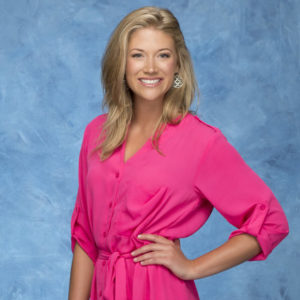 Jordan "The Girl Next Door"
Age: 24
Occupation: Student
Hometown: Windsor, CO
Height: 5'5″
Tattoos: Two
Can't live without: Blush, toothbrush, phone, water, food
Biggest date fear: Getting stomach cramps
Why she can win: She's from Colorado. It's a common knowledge that people from the Centennial State are smart, attractive, creative humans who have a fondness for the outdoors and a love of craft beer. Or maybe I'm a bigger homer than Bill Simmons as I too am from Colorado.
Why she can't win: She's from Colorado, which means a man from Iowa is beneath her station.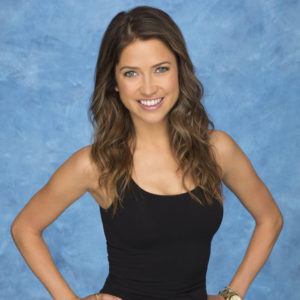 Kaitlyn "The Canuck"
Age: 30
Occupation: Dance Instructor
Hometown: Vancouver, BC
Height: 5'4″
Tattoos: Five
Can't live without: Moisturizer, family, eyelash curler, sushi, music
Biggest date fear: That we won't feel the same
Why she can win: Because her life is just like the movie "Flashdance." What's her greatest achievement? – "Getting a dance scholarship and moving out of my small town for it." If that doesn't make "Maniac" by Michael Sembello play in your head you're un-American. Kaitlyn also loves the Teenage Mutant Ninja Turtles. Check out what fictional character she'd want to be – "April O'Neil because she gets to hang out with the Ninja Turtles and she's a babe." If you have no idea who April O'Neil is you're probably single, whether you're a man or a woman.
Why she can't win: She's from Canada. If there's anything that Justin Bieber has taught us, it's that we've been far too lenient with the number of Canadians we've allowed in the United States. She also probably says "hoser" and "Eh" all the time.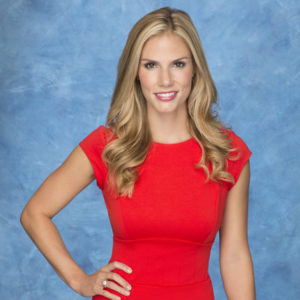 Reegan "The one whose job is so weird that it's all you think about"
Age: 28
Occupation: Cadaver Tissue Saleswoman
Hometown: Manhattan Beach, CA
Height: 5'6″?Tattoos: None
Can't live without: Eye makeup remover, salted caramel ice cream, cherry chapstick, butter popcorn, mascara
Biggest date fear: Guys who name drop and lie to impress
Why she can win: She has old-fashioned values. Here's her response to whether the man or woman should be the pursuer or pursuee – "I'm a little old fashioned…I know times are changing but I still believe pursuing is part of being a man. Manly men approach women — it shows confidence."
Whey she can't win: Her name and job and weird. Also she may be too old fashioned. Here's how she impresses a man, "I'd keep my mouth shut. 🙂 Seriously, I think just being supportive and listening to what they have to say works best." Reegan is trying to single-handedly set women's rights back 50 years.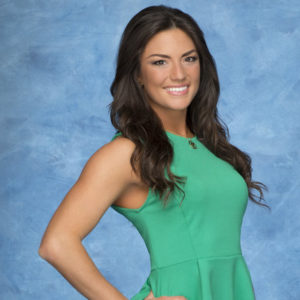 Jillian "The Guy's Girl"
Age: 28
Occupation: News Producer
Hometown: Washington, DC
Height: 5'2″
Tattoos: None
Can't live without: My phone, chocolate, my bunny rabbit, Netflix, Mexican food
Biggest date fear: A guy with bad intentions
Why she can win: She's cool! She easily had the best questionnaire answers. What fictional character would she want to be? "Iron Man — because he's Iron Man! I want the suit and to be able to save people and fly around." What's the most outrageous thing she's done? "I let Mike Tyson feel my bicep and I let him dangerously close to my ear…but I still have both." What's her most embarrassing moment? "Possibly this process…" All great answers! If she doesn't win, she's already the front runner to be the new Bachelorette.
Why she can't win: She's a news producer in Washington D.C., who can't live without her phone and gets to hang out with Mike Tyson. Is she really going to give up her awesome career to move to Iowa? No way.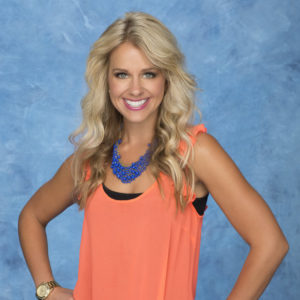 Trina "The Cute Nerd"
Age: 33
Occupation: Special Education Teacher
Hometown: San Clemente, CA
Height: 5'5″
Tattoos: One
Can't live without: My dog, pizza, my girlfriends, my mom, random adventures
Biggest date fear: Eating something that gives me "di-di"
Why she can win: She's a bit of a goofball. When asked if she could be any fruit or vegetable she answered, "I would be a coconut. I love how they grow in such beautiful, exotic yet uninhabited places. No one would ever eat me! I would smell and taste delicious too! And I'd have lots of health benefits to offer." Since she wouldn't get eaten for some reason I'm not exactly sure how she would know that she'd taste delicious and have health benefits to offer but I appreciate the answer.
Why she can't win: She's seen "Just One of the Guys" too many times. When asked if she could be someone else for just one day she answered, "I would love to be a guy for one day. No one in particular, just a guy. I'd love to know how they think!" Um, no, trust me you do NOT want to know what we think. Just like a guy really doesn't want to know the real answer to the question, "How many guys have you slept with?" you really don't want to know what we think. The mind of a man is both simplistic, yet also a weird, disturbing place. You'll never look at another guy the same way.
Those are my 10 picks for the most interesting ladies on the upcoming season of "The Bachelor," which premieres on ABC Monday January 5. Take a peek at the entire roster right here for yourself and let me know your favorites.