This is the second in a two part series on the casting experience for "The Bachelorette." You can find part one here. This post is in place of my normal running diary as the Men Tell All Episode is airing this week.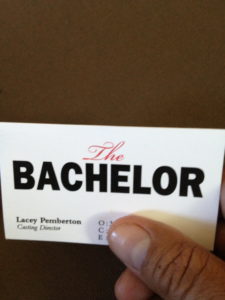 I'm stunned that business cards for the show have no roses on them.[/caption]
A surprisingly small team of eight handles casting for the Bachelor and Bachelorette. Leading that team since the series' inception is Lacey Pemberton. Ms. Pemberton is a veteran casting director. Not only has she worked on both Bach franchises but she also served as casting director for "American Inventor" and "Shaq's Big Challenge."
I spoke with Ms. Pemberton while she was in Denver for a recent Bachelor casting call. We talked about the application process, whether or not she specifically looks for the next Tierra or Michelle Money, and about Chris Harrison's involvement in casting.
Terry Terrones: You've been doing this for a while now so I'm sure you have a formula for selecting people.
Lacey Pemberton: I look for a certain energy and I look for someone who is enthusiastic about this and can put his or her real life on hold for a bit. I also look for someone who is really sincere about looking for love.
TT: Do you have an age range? Can someone be too old?
LP: Well you have to be at least 21 but we don't limit it. We don't have any age range listed like '21 to whatever.' It's open to anyone.
TT: What's on your checklist for someone who is good for this show?
LP: I like people who are good listeners. You want people on who are not just going to talk about themselves but are also being observant and aware of other people. Someone who is a good listener is much more interesting that someone who talks about themselves all the time.
TT: What physical qualities do you look for?
LP: I don't think there are any specific physical qualities I look for because once you really start liking someone, they change physically to you. They either become more attractive, or if you don't like them at all, you don't find them attractive at all. I think women, in particular, are that way about men. I meet women who talk about wanting a guy with a great personality or sense of humor. That takes priority over the way someone looks.
TT: If I'm the Bachelor, I'm thinking to myself that I have a certain type of woman I'm attracted to. When you find out who the Bachelor is do you think about what type of woman he's attracted to? Like if the Bachelor is more into blondes than brunettes?
LP: We do to a point. The thing I find is that people say that have a type but they really don't. It all comes down to chemistry. Sometimes people are surprised at who people are attracted to. You have to mix it up because you never know.
TT: Someone who wants to be on the show fills out an application and films a short video. What of those two things is most likely to get your attention?
LP: It's all about their conversation so I can get a sense of who they are. I'm looking for someone I want to listen to more. Occasionally, someone may have an interesting hobby or something on his or her application but unless I'm interested in learning more about them, it's inconsequential. They have to have some charisma to get my attention. If they can get my attention they can reach the audience that's watching the show.
TT: How many people are you expecting today and of those people that apply, how many do you think will make it to the next round?
LP: We're expecting about 300. Of that number maybe 20 will make it to the next round. By then I'll have an idea who our new Bachelor might be or it'll probably be between two people, and then I can narrow it down based on who I think might be compatible. Of course, on paper things may look good but we're always surprised every season by what happens. Sometimes it's surprising who ends up being together.
TT: So is the next step for applicants a trip to LA?
LP: I'll have a finalist-casting weekend at some point where I'll bring in 100 girls from all over the country that will meet with producers and myself. And out of those 100 we'll choose the 25 that will be on the show.
TT: What do the women do while they're in LA?
LP: They're out there for about 2-3 days. We do another on camera interview and we figure out if they're right for the show. They get put on tape individually on what looks like a Bachelor set with candles, roses and everything. They don't meet each other but they meet producers one-on-one for a more formal style interview.
TT: There has to be some women who apply who just want to make a name for themselves, who want to be a model or get into hosting. How do you weed through that?
LP: I really believe, having done this for so many seasons, that most people really want to meet someone. There's lots of other shows that give you an opportunity to win tons of money, it's also easy to get on camera nowadays, much easier than it used to be. So I don't think this is the venue to try and get on camera.
TT: So you'd say a majority of the people here are here for "the right reasons?"
LP: I'd say a majority of them are, absolutely. You wouldn't go through this process unless you were.
TT: I've watched this show forever so I'm familiar with the archetypes. For example, this season we had Ben, who was the "villain." There's also always some good guys and guys who are insecure. It also works that way for the Bachelor. Tierra was the villain, Michelle Money is a villain, Desi was an All-American girl. They're characters and every year it seems like there are certain character types. Do you cast for a certain type? Do you say, "this person is kind of feisty, I think she'll fit into this type of category"?
LP: No, I don't think in terms of categories. I always say, and this holds true every season, if you could choose any 25 people and you put them in this scenario their real personalities will come out. They are who they are, their party manners are gone in a matter of days. If you took 25 people from your office and put them in this scenario where they're interested in the same person you'd probably see things in those people that you never knew existed.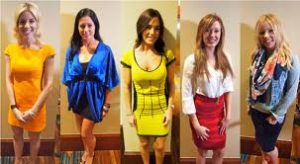 TT: So you're saying its not necessarily casting its about how people break down socially?
LP: That's just nature I think. As far as casting I do look for interesting types of people but I don't go "that's a Michelle Money" or "she's a Tierra." That can set you up for disappointment. Because you're casting real people you never know how they're going to react.
TT: When you have casting calls for The Bachelorette is the turnout the same?
LP: I don't have events for the guys when I have Betty, that's what we call "The Bachelorette," because guys don't usually come out to something like this. But what I do is hire scouts in different cities to look for guys, plus we get applications that are submitted online or they're nominated. Nominations are usually good because then a guy has someone to accompany them and make them feel better about the process. But honestly this (the Bachelor casting call) is actually a good opportunity for a guy because its so busy they won't feel like they're set apart.
TT: How has social media evolved/changed the show?
LP: It's easier because everyone can submit his or her application to the show online. We get thousands and thousands of applications from people online, way more than our casting calls. However, it also makes things harder because it's tougher to keep the confidentiality of the show.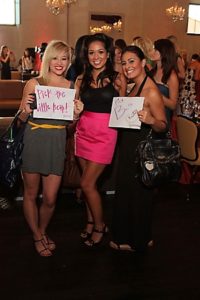 TT: Will there ever be a Bach/Bachelorette for older singles, say in there 40s?
LP: I get asked that a lot. You never know, it could happen but that's really not my call, it's up to the executive producer. I think if you're in your 40s or so I'm not sure you really take that leap of faith to be on the show than you would be in your 20s. But the big thing is would anyone watch? As long as the people are interesting I think they would.
TT: Is Chris Harrison involved in the casting process at all?
LP: No, Chris doesn't meet them until they get out of the limo.
TT: After you've cast them, is your part done?
LP: Yes, the moment they get out of the limo I'm done and on to the next season.
---
Post Notes:
---