So, as I read Big Brother 15 with a sense of its grander, literary worth, I knew I would eventually decipher whether or not the doings in the house reflect the times in which they are aired: Does Big Bro represent the now? It is all too common to hear competition reality programming referred to as a mini representation of how society functions, of how the fittest do survive; and with its present relevance in mind, I have tackled today's headlines of The Daily Beast news website, considering if Big Brother truly is a microcosm of what is occurring in the world.
Parasocializing_104_Mimeticism
Does the news of the world mirror the news of Big Brother: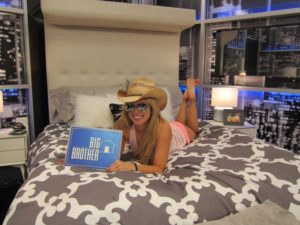 Racial and gender bias?[/caption]
The first headline: Zimmerman Found Not Guilty is unmistakably linked to the issues pervading #BB15. Without question, the racial and gender bias demonstrated in this season of Big Brother lead the headlines in and out of the house. In the same way, the implications of George Zimmerman being able to profile, stalk, and, ultimately, get away with killing Trayvon Martin, figuratively mimics the way Aaryn & Co. has been able to slander the character of Candice, Helen, Howard and Andy, based on the color of their skin and sexual orientation alone. The prejudice in the Big Brother house is clearly a reality outside of the house as well, and by acknowledging it, Big Brother does end up coming off more real. Sadly, based on the acquittal of Zimmerman, were Big Brother to truly end up be an art imitating life, Aaryn and Co. will continue to project their own insecurities to the detriment and demise of minorities.
Headline 2: Texas Passes the Abortion Bill – As noted, my intention is to show how Big Brother is dealing with the same issues the world is, but just on a smaller scale; and admittedly, this is a tender area to use for comparison, so, I will tread lightly. However, after this week's eviction, The Moving Co. can be considered an aborted alliance. An aborted alliance differs from a failed alliance in that its life was consciously snuffed. I am smart enough not to dwell on this point, but Spencer and McCrae are certainly the one's responsible for terminating the growth of TMC early. Imagining Nick's potential as a full grown player still keeps me up at night.
The third of the headlines reads: 7 UN Peacekeepers Killed in Attack.  While this stories connection is less obvious than the previous two as analogs, I can see the writing on the walls for some of the peacekeepers in the house based on the last eviction: Poor Howard continued to fight for a cause that was no longer solvent. By voting to evict Elissa, Howard was shown to be behind the curb. While he may not have been directly attacked yet, his diplomacy in the house will eventually become a liability. In a game where there has yet to be an African-American winner, Howard represents peace and equality that will likely be subverted by those conscious of his narrative value. Peacekeepers like Howard are good guys and you don't keep good guys with the potential for a profound narrative resolution, if you know what is good for ya.
Next in Daily Beast's Top 10 Headlines is: Asiana Victim Identified. Though directly dealing with the San Francisco plane crash, the headline indirectly recollects how Big Brother's Helen has been brutalized in the last week of the game. As the only houseguest of Asian descent, Helen found herself targeted and victimized by Aaryn, when put on the block for associative reasoning. Though Aaryn had feigned interest in working with Helen, by putting her on the block, any realistic chance of their colluding seems far-fetched.
The fifth news story reports that a Track Flaw Derailed French Train and this corresponds most effectively with Jeremy's chugging along in the game thus far. In fact, it is arguable that Jeremy was the true flaw in the alliance and his ultimatum is responsible for having derailed everything. As shown, Spencer and McCrae knew enough to switch rigs with enough time to avoid catastrophe. But with that being said, Jeremy is the only character in the Moving Company with the ability to potentially regroup anew after the aborted alliance, having Kaitlin and Aaryn in tow. And while The Moving Co. might have been the easiest way to the end game for him, he knows it makes more sense to play with girls. The path that was laid by alliances like The Brigade won't suffice for an ego-maniacal locomotive like Jeremey, whom openly admits to having no brakes.
Bus Crash Kills 18 is the sixth depressing headline news junkies are fed by The Daily Beast. Immediately, I am transported to countless houseguests using the most cliché expression we are constantly exposed to: I know I can't be the only one to think "thrown under the bus" is the most overused phrase in reality TV next to "I gave 110%". Since so many people lost their lives in this accident, it wouldn't be very classy to compare this headline to Big Brother, but perhaps it might deter future player from using such a thoughtless, violent saying. A little less hyperbole when describing betrayal in the game would be refreshing at this point. Perhaps throwing players in front of Vespas instead of buses would be easier to take on.
7th Headline: Gitmo Hunger Strike Ends – Gitmo is the Big Brother House from Hell. Everyone in the Gitmo House is a most assuredly a recruit and the challenges are down-right impossible. Indeed, the best chance to stay hydrated in the Gitmo House is during routine water-boarding. Big Bro knows the significance of food and drink, and through the Have Not cuisine, delivers a debilitating punch to the inmates. Though in Big Bro's case, the headline is inversed, and it is establishment that is imposing dietary restriction making this comparison a little muddled… But, no matter how food is manipulated, it makes for high drama, apparently.
The 8th headline examines a journalist being imprisoned in Arkansas for the content of his publications. Coincidentally, a writer for the Daily Beast, Seth Ferranti, has been put in solitary in an AK facility, much like Dan Gheesling was locked away for 24 hours last year, but in Seth's case, there is little explanation. Of course, the infringement of Mr. Ferranti's rights were not signed away to Allison Grodner in the same manner Dan's was, making for quite the questionable incarceration. His first amendment rights are being infringed upon, and unlike Big Brother's Aaryn, Ferranti is being held accountable for his incendiary words.
The second to last headline read: Gamers are Pro-Athletes. This report delves into how international gaming prodigies can be given visas based on their skill level. Gamers can be identified, chosen and ultimately given the right to pursue vocation in our country based on their ability to play. As we have seen two weeks running, Elissa is America's gamer. Based on her genetic make-up and coding, she was determined the most pliable force for America to wield within the game. Her MVP status is her visa in the Big Brother country she would have otherwise been deported from. As the biggest outsider in the game, Elissa is able to keep her place in the house because of her blessed amnesty that has been rewarded to her based on the anticipation and hope  she could be half the houseguest her sister was.
Finally, the headline that appropriately finishes the front page deals with the nature of hooking up these days. Women Drive Hook Up Culture is an article that examines the ever shifting gender roles in carnal activities. Apparently, women have even more control than men when it comes to getting it on, and/or taking it to the next level; but more importantly, women's priorities have changed when it comes to making a life for themselves. In the eyes of many, this has signaled a legitimate power shift. As reflected in the game, women are more focused on their longevity and security than romance. The fact that Jessie voted out Nick this week supports this news article's position that women are more interested in playing the game than getting smoochies these days. In another instance of this, Elissa, Helen and Candice are vehement about getting the guys out, were they stand any chance at the gold. Women are the ones calling the shots when it comes to the dynamism of a relationship, what alliances have a chance of survival, and who gets evicted.
Be it the Big Brother house or the globe, there are central issues that arise in some form or another in both spheres. While the urgency within the Big Brother house may appear confined and restricted, when correlated to the headlines of a major news outlet, it becomes clear the topics transcend the show. It seems Big Brother is, for good and ill, a fair enough representation of society's functioning.
Until next time, thanks for Parasocializing!
Get affected!