Welcome back for another season of "The Bachelorette!"
I'm your host, Terry Terrones. I'm the media columnist for the daily newspaper in Colorado Springs, The Gazette, and a member of the Television Critics Association. In my spare time, I enjoy working for one of my all-time favorite "Survivor" contestants (his name rhymes with Bob Cheshirebeano) by watching really bad reality TV – hence "The Bachelorette" blog.
This is my third stint blogging about the Bach for Rob…er, Bob, so if you have returned for a third helping, I thank you. If you are a newb, welcome! Since this might be new to you, here are the ground rules:
1)   After "Survivor," "The Amazing Race," "The Challenge," "The Real World," "Chopped," "Top Chef" and pretty much any "Real Housewives" series except Orange County, "The Bachelor/Bachelorette" franchise is the best reality show on TV. This is not open for debate.
2)   While I love this show, making fun of it is an absolute requirement. When even the network that airs a series is in on the joke, viewers are given carte blanche to mercilessly poke holes in it.
3)   This show is NOT about true love. If you are watching this show for that reason, you are watching it incorrectly. This show is about contrived romantic scenarios, the overuse of clichés, and people opening up their heart for "the right reasons." Typically those "right reasons" are for people to try to become the next Bachelor/Bachelorette or get on "The Bachelor Pad."
4)   Chris Harrison has the greatest job in the world and his ability to mathematically deduct the number of roses that were first placed on a dais to the number "1" without the use of a calculator or abacus is astounding. Unless, of course, a producer is doing the subtraction for him and saying it to him in an earpiece.
5)   DO NOT take anything written here seriously. If you do, you have no one to blame but yourself.
As you can hopefully tell, this blog is all about fun.
Before we get to tonight's premiere episode, please be sure to check out my season preview. That way when all my guesses are wrong, you can point your finger at your computer and laugh at me like Nelson Muntz.
Okay, enough jibber jabber. Let's get to this episode. As always, be sure to check out the flavor filling links.
8:30 – Chris Harrison starts the show with a short feature on Eric, who I mentioned in my preview. I didn't know when I was writing my preview that he had passed away after leaving the show. I had him as a frontrunner.
8:32 – We've moved on to a feature on Andi. She's an assistant DA in Atlanta. We see her wearing a badge (DAs have badges?!?) and looking over a wooden fence. Evidently that's the extent of what a DA does when they "investigate" things.
8:33 – We get our first Juan Pablo mention as Andi talks to her parents. Let's keep track of this.
Juany Pabs Meter: 1
8:36 – The Andi Introductory Montage has mercifully ended. Guess what? It's her time for love and she's ready to meet the man of her dreams!
8:40 – Andi is moving into the Bachelorette pad. Her taller, much cuter sister is helping her prepare for the first night. ABC should give HER a reality show.
8:44 – And the "Andi getting ready" segment is over. What a waste of time! If ABC didn't pad this show with so much fluff it could easily be an hour. Guess that's what happens when you don't have any other good programming. Burn!
8:47 – The first limo has finally arrived. There are 25 dudes with five o'clock shadows who all look the same about to pollute my TV screen. Unless they stand out in some weird way, I'm not mentioning them all.
8:50 – The first limo has emptied. Marquel made a strong impression on Andi. He's a good looking dude and Andi was looking at him like a cheeseburger. However, Tasos (from Denver!) made the best first impression. He talked about Lover's Bridge in Paris and took out a lock, had Andi lock it onto some metal fence and toss the key for it into the bachelor pad fountain. Yep, us Colorado dudes are smoooooth.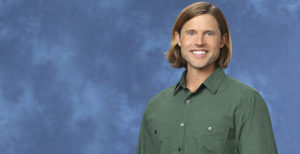 Claire Danes or Dr. Jason?[/caption]
8:56 – The second car is empty. I like Rudie, who like Andi is also an attorney. He seems like a good guy. I'm going to go ahead and pencil him in as the next Bachelor. We also meet Dr. Jason, who looks like he stole his hair from Claire Danes.
8:59 – The third limo is empty. The highlights are Emil who introduces himself in an unusual way. When he sees that Andi is having trouble with his name he says, "It's Emil. That's 'anal' but with an 'm'". If you can make a woman laugh, which he does, that's a good thing. Also getting some attention is Brett, who does his best Brick Tamland impression and gifts a lamp stolen from the hotel to Andi. Um, ok dude but I don't think thievery is a trait women are into.
9:03 – The fourth limo is empty. Meh. Nothing too interesting except for Nick S (a professional golfer) rolling up in a golf cart. How do you arrange that by the way? Do you tell producers what you want your gimmick to be or do they make suggestions? I'd love to know.
9:06 – The final car is empty. We got to meet Mike, who looks like a taller Dr. Jason, but for some reason he likes to be called "Camps," which is weird. If I was a guy in the house who didn't like him I'd call him "Cramps" or "Gramps." We're also introduced to Eric. Even though we don't know him, it's odd to see him onscreen knowing that he's passed away.
9:10 – Cocktail party time! Let's hope someone does something REALLY stupid.
9:15 – Andi just said "y'all" three times in 60 seconds. Since my Juany Pabs Meter isn't working, I'm changing it up to the Y'all Meter.
Y'all Meter: 3
9:20 – Andi seems smitten with Josh M. She's all about her ID at the moment. Once she realizes his job is "former baseball player" and he's now likely an insurance salesman living in his mom's basement, he's going to be gone.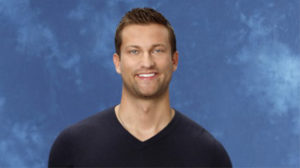 9:25 – Whoa! What the heck is this?!? Chris Bukowski (pictured below from Emily Maynard's season and "The Bachelor Pad") is making an unexpected appearance. He's shown up dressed in a suit and with flowers and wants to meet Andi. He gets held by security and someone is sent to give Chris Harrison a shave and a pot of coffee because he has to be on camera way sooner than expected.
9:27 – Harrison is talking to Andi. Andi considers meeting with Chris, but decides it's unfair to the guys who are already there. Classy move on her part. Of course if she's seen Chris on "The Bachelor Pad" she'd remember that he's kind of a d-bag.
9:30 – Chris tries pleading with Harrison but CHarr is having none of it. Chris leaves without getting to meet or talk to Andi. This entire thing was just goofy.
9:35 – Now that Chris has left, things have gone back to normal. Speaking of Chrises, Andi seems to be bonding with a different Chris. If you read my preview, you'd see that I thought Farmer Chris would have a good shot. Called it!
9:40 – Andi is walking around, ready to give out the first impression rose. Who gets it? Nick V. Who?!? Exactly! I didn't even know this guy existed until he was given a rose.
9:44 – Andi says "y'all" twice in 30 seconds while addressing the guys right after Chris Harrison popped out and tapped his champagne glass. Time for her to think about which lamp-gifting dude-bro she wants to send home.
Y'all Meter: 5
9:47 – Final rose ceremony time! I have no clue who's going home–not after Nick V got the first impression rose when he seemed to appear from a puff of smoke David Copperfield-style.
9:48 – Two more "y'all's." I have a feeling I'm going to get really sick of hearing that phrase.
Y'all Meter: 7
9:52 – Cody gets a rose!?! The guy who I said in my preview looks like a piece of fried chicken left under a heat lamp too long gets a rose?!? Really?!? The guys going home tonight must have had NO shot if he's in.
9:53 – Chris Harrison, mathematical genius and descendant of Archimedes, wakes up from his whiskey coma long enough to tell Andi that she has one rose left.
9:54 – Andi lowers the boom! Mike (Cramps), attorney Rudie (who I thought had a good shot), snowboarder Steven, Dr. Jason (must be the hair), helicopter pilot Anal and some guy I swear I've never seen before (Josh B), all get sent packing. Crap! I just noticed that Josh B is from Colorado. Guess all my money is riding on Tasos now.
9:55 – Josh B is going on a bit of a rant. He feels embarrassed, pissed off and his buzz has probably worn off at this point. He ends his tirade with, "This is stupid." We know Josh B! That's why we watch!
9:56 – While doing the champagne toast with the remaining men, Andi throws out another "y'all." Andi is doing a really good Dolly Parton impression right now.
Y'all Meter: 8
9:58 – The shows ends with a season preview. We know what's coming – things looks great for Andi and she's happy, a villain seems to emerge, dude-bros butt heads, and the Bachelorette has an emotional breakdown. We all have the formula memorized at this point.
Final thoughts – Here's a fun game to play with your spouse/significant other and a sure way to start a fight – ask them if they were the Bach/Bachelorette and you were one of the many single people there for this show, would they have given you a rose. You know they're going to lie to you…A 90 minute premiere? What's up with that?!? Don't get me wrong, I'm actually happy about it but it seems a bit short. Was the cocktail party that boring? Did producers have Chris Bukowski on standby to stir things up because they knew this crop of guys were boring? Let's hope not…I like the Y'all Meter. I think I'm going to add every Y'all up from every episode.
That's all for now kids! Thanks for joining me! Sadly I'm on vacation the next two weeks so I won't have another running diary until three weeks from tonight. Sorry, but Hawaii beckons. See you in June!