I don't know about you, loyal readers, but I found this was the first episode of "King of the Nerds" all season where…nothing much happened. I don't mean that in a bad way – like any "KOTN" episode, it was still chock-full of fun little character moments that few other reality shows come within light-years of showing us – it's just that for the first time in a few weeks, it was pretty drama-free. No Zack outbursts. No awkward group hugs in the throne room. Not one drunken girl fight, to harken back to season 1. This relatively peaceful episode actually struck me as odd simply on account of its peacefulness.
I didn't have to rack my brain for a blog topic, though. Because as luck would have it, there was actually an unreleased secret scene from this week's episode: a follow-up nerd debate that was sadly left on the TBS cutting room floor. Through my super secret VIP connections, I have managed to get a hold of the transcript of it. The subject up for debate was: The Current Season of "KOTN" So Far. The transcript is as follows:
Point 1: Team Midas Touch Attack probably should have chosen to defend Star Trek in this week's nerd debate
Debate[/caption]
Katie (taking the "for" argument): "It has become quite clear that Team Midas Touch Attack probably should have chosen to defend Star Trek for starters everyone knew that Kayla was an absolute Star Trek fanatic so giving her team Star Wars to defend probably would have at least done something to rattle her while she was preparing for the debate in addition Brian flat out told me he assumed I was going to pick Star Trek and so he thought I picked Star Wars to help them but it was really just because it IS the better franchise but the Titans of Rigel all admitted they would have been screwed if the gold team had chosen Star Trek and of course hindsight is 20/20 (Katie pauses, takes deep breath) but again with the close connection I had to the purple team I probably should have been able to realize that giving them Star Wars would be giving them their clear second choice so this would have been advantageous in combination with having someone like Zack on our team who had a great deal of knowledge on Star Trek that he could have shared with both Jack and myself so in conclusion the gold team should have chosen to defend Star Trek."
Kayla (taking the "against" argument): "Pft, whatever. Are you kidding, Katie? I know all about Star Wars. You don't have to tell me that the best characters are obviously the desktop computer robot PC3-O, and everyone's favorite record spinning android R2DJ. Besides, any knowledge of Star Wars we didn't already have could have been obtained through Goggle searches. Now give me my point, judges, before I have to bash you all with this hockey stick."
Winner: Although risking bodily harm, the judges declare Katie the winner.
Point 2: Well played last week, Titans of Rigel, because Nicole would have won that last point for Team Midas Touch Attack
Zack (taking the "for" argument): "For this portion of the debate, I have only one argument to make – and it comes in the form of this personalized letter that I just received via fax from my close friend and mentee, Star Trek creator Gene Rodenberry. Now I know what you're all probably thinking: 'Wait, didn't Mr. Rodenberry die in 1991?' No. No he did not.
"Ahem:
'Zack! My man! The Rochambeau champion himself. It's so good to hear from you again, old friend. I trust Stompy the Triceratops is well.
'Unfortunately from what I hear, the same can't be said of Nicole, your best friend in Nerdvana. It's a shame, but well played on the Titans of Rigel last week, because Nicole would have won that last point in the debate for Team Midas Touch Attack. I mean, she has more general skills than anyone basically except you there. And what's with Jack not even knowing what the Enterprise is? Total n00b amirite?
'Anyway, just checking in, bud. I still hold dear to my heart the advice you once gave me about poison numbers. It single-handedly made me the man I am today, and Zack, without you, the multi-million dollar franchise that is "Star Trek" would be nothing.
'Praise be to Zack,
'Gene."
Jack (taking the "against" argument): "To be completely honest, I have never heard of Gene Rodenberry or debating before, nor do I know where I currently am. But let's look at the cold hard facts: in social media, Nicole just does not hold a candle to my stats: her periodic table raps have fewer hits on Vine, Tumblr, and Soundcloud combined than mine do on new.myspace.com. Who cares about the fact that Nicole has more followers than me on Twitter (at press time), and has probably actually seen a number of films or television episodes pertaining to both Star Wars and Star Trek? Clearly my use of statistical evidence will win over the same judges who very eagerly responded to the idea that Star Trek is a better franchise for addressing actual societal issues. Also Jimmy Fallon, if you're watching, is #JackvJimmy still on the table? Have your people call my people."
Winner: With Jack's stellar-as-usual performance, this will be a nail biter! But special guest judge Cory, assistant manager at the Little Caesars on Roscoe Boulevard in Van Nuys, defers to Zack.
Point 3: Losing Katie is a setback for the Titans of Rigel, but Zack and Jack are in no way out of the woods
Brian (taking the "for" argument): "I believe it was the great Marcel Proust who once wrote, 'Fashions, being themselves begotten of the desire for change, are quick to change also.' Ladies and gentlemen, the fashion of an original Titan leaving the game is also about to die out very soon. Not because the gold team will suddenly become victorious, but because they are presently in the process of becoming extinct. The truth of the matter is that when it comes to cohesive teamwork, Jack and Zack remain two of the weaker players in the game, and a numerical disadvantage will only continue to be a hindrance going forward."
In a surprise special appearance, it's Hendrik from season 1! (taking the "against" argument): "Curtis and Bobby sent me an email with some combination of Star Wars, Star Trek, and food dye, signifying that I was to join the debate. After careful consideration while wearing a space helmet and playing in the fountain outside Nerdvana, and about an hour of practicing raven calls, I came to the conclusion that Zack and Jack are still at a 4 to 2 deficit heading into season two, episode six of the TBS series 'King of the Nerds.' This is most unfortunate for them although I imagine they would be good company."
Winner: Brian, but Hendrik wins life
BONUS ROUND: "King of the Nerds" will be a little bit less awesome without Katie
Chris, taking the "for" argument: "Well I mean…yeah. Wait we're going to actually debate this? Katie rules. I cede the remainder of my time."
Xander: "These two photos are my only contributions this week! Spot on about me being the undeniable new voice of the show in last week's blog, Brendan!"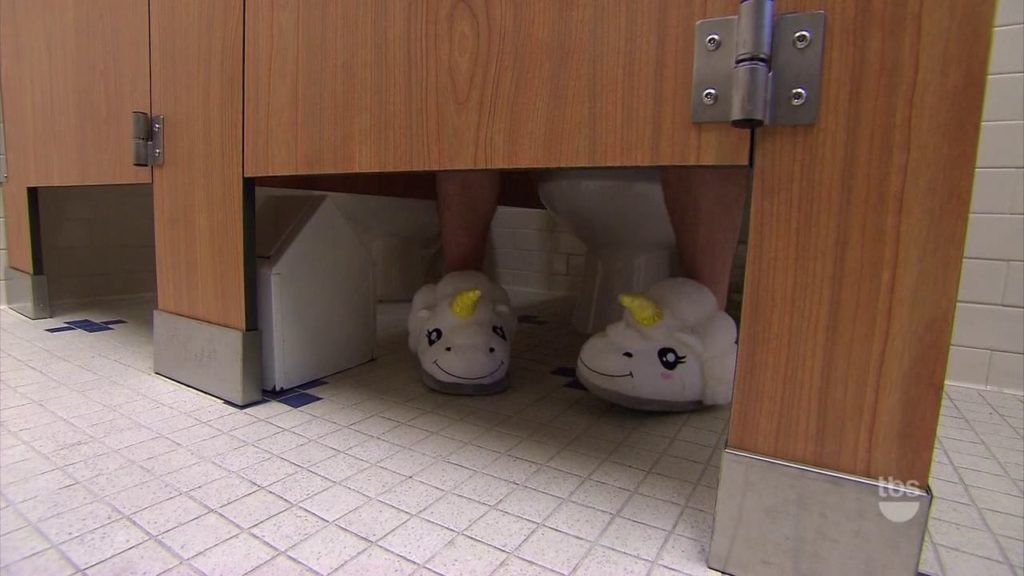 – End of Transcript –
Sigh. You can't win 'em all.
Devastated by the loss of Katie like Brian and I are? Will the nerds be able to save George Takei from a laser maze next week? And is that a troubling sign that we might not be getting nerd anthems this season? Talk nerdy to me in the comments!