Join Curt Clark (@curtclark) and Mark Celera (@DawnsBread) for a special Week 4 RHAP-Up of Big Brother UK…because this week, Curt and Mark are joined by none other than J-U-Double-D, Judd Daugherty from Big Brother (US) 15!  The guys briefly chat about Eileen's (surprising) eviction, but spend most of the podcast discussing the four new housemates and how opinions of them have changed over the course of the week.  Additional topics included:
Simon's outbursts, tears, threats to quit…and whether he or Dan Foley from Survivor is the better apologizer
How Chloe has emerged from her shell a bit more…mostly to yell at Simon and Marc
Sam's evasion of much of the blame from the nominations her and Simon had to make this week
Harry's toplessness and how the other housemates are over it already
Marc's shenanigans in the house, from his entrance into the house through the Big Brother Fraternity task
Speculation about how

next Friday's

fake eviction might play out
A rare appearance by Judd's British accent
Join us next week as we cover all the BBUK Week 5 occurrences on Reality TV RHAP-Ups!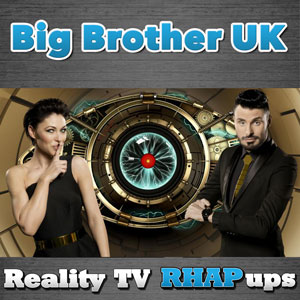 Click to Subscribe to ALL of Reality TV RHAP-ups[/caption]