It's SHOWBIZ!!!  Join Curt Clark (@curtclark) and Mark Celera (@DawnsBread) for their Week 3 coverage of Big Brother UK on Reality TV RHAP-Ups.  This week saw a ton of shake-ups, with six people leaving (well, five housemates) and four new housemates coming in.  Mark and Curt break it all down, including:
Their overall thoughts on the #4out4in twist and whether it was likely premeditated…or if it was made up on-the-fly
A blow-by-blow analysis of each evicted housemate, and who Curt and Mark each wanted to stay…and who they weren't surprised to see leave
Their first impressions of the three new housemates (Harry, Marc and Sam)…and their second impressions of Simon
Aaron's removal from the house and the events that led up to it
The various tasks of the week, including the housemates inability to shut their traps when Big Brother asks for silence…and Eileen's unique tongue technique
Thanks for listening and stay tuned for Week 4 coverage!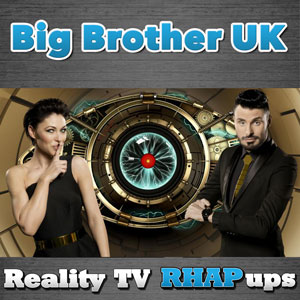 Click to Subscribe to ALL of Reality TV RHAP-ups[/caption]