Two weeks down in the Big Brother UK house, and the drama has finally started to pick up!  Join Curt Clark (@curtclark) and Mark Celera (@DawnsBread) as they #RHAP-Up all the happenings in Week 2 of Big Brother UK, up through
Friday's
Live Eviction (and events immediately after).  Topics discussed include:
The eviction of Adjoa, and the path that led her to be voted out of the house
The process of face-to-face nominations, and Jack's decision to give immunity to Cristian
The awesomeness of the "Pitch Black Bathtub" challenge, the treachery of She Who Shall Not Be Named, and the overall fallout of the loss of the Shopping Challenge
The rise and fall (and rise?) of Jack as a potential winner
Jade's week of luxury and its impact, to date, on the house
The dramatic explosion of the Debate Challenge, and the public truths exposed during the Popularity Poll
The housemates Mark and Curt think may be the next to chat with Emma
Your listener questions!
Stay tuned on Twitter throughout the week for Curt's and Mark's thoughts on the daily episodes and stay tuned next weekend for Week 3's #RHAP-Up!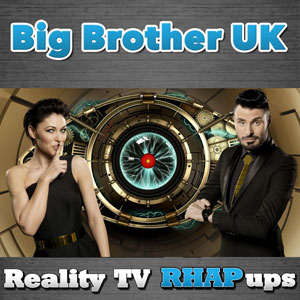 Click to Subscribe to ALL of Reality TV RHAP-ups[/caption]