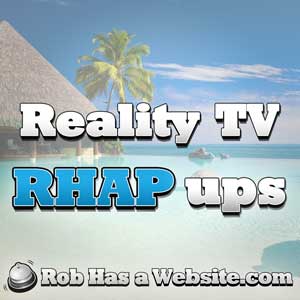 Click to Subscribe to ALL of Reality TV RHAP-ups[/caption]
Once again, Malory Beazley (@survivor__bitch) and Curt Clark (@curtclark) tackle the week's events in the Big Brother UK house, and discuss how this week's Power Trip (Girl Power!) impacted both the houseguests and the game.  Both Malory and Curt were surprised to see Matthew Davies (23) evicted over Ash Harrison (26)…despite the best efforts of young Ashleigh Coyle (18) to manipulate her fellow female Power Trippers into ensuring that Ash ends up on the block.
Both Curt and Malory hypothesize as to what might have caused this to happen…from Ashleigh's emergence as an evil mastermind to Helen Wood's more sympathetic editing over the course of the week.  They further discuss the rise and fall of Ashleigh (culiminating in her receiving boos from the crowd 
on Friday
 night, and hearing "Get Ashleigh out!"), perhaps emboldened by the departure of Toya Washington (29) last week.  Ashleigh quickly reveals to Danielle that she realizes that if they want to save one of their friends (and also keep Ash off the block), they have to rally behind someone that either Kimberly Kisselovich (23) or Jale Karaturp (33) wants to save…namely Marlon Wallen (22) or Steven Goode (23).  Malory points out that Chris Wright (33) pretty much guaranteed himself one of the three "saves" that the girls were allowed to grant through his extremely moving and sincere self-revelation about his life prior to moving into the house.  This left two "save" spots open for Steven, Marlon and Ash…with Ashleigh and her best friend in the house, Danielle McMahon (25), firmly supporting Steven and Marlon over Ash.  They further discuss the girls' logic of not "saving" other nominees Winston Showan (27) and Mark Byron (24), because they believe (correctly, it turns out) that both will be safe, regardless, 
on Friday
.
Curt points out that while he wasn't surprised to hear Ash receive boos from the live crowd 
on Friday
 night, he was surprised (and worried) to hear Matthew receive boos.  He was also surprised to hear fellow nominee Christopher Hall (23) receive a mixed reception from the crowd…and both Curt and Malory were saddened to see Matthew leave, as both were rooting for him to stay, especially as one of the few housemates who has proven he isn't afraid to stand up to Helen.
After discussing the events around the nominations and evictions, Malory and Curt turn to their other favorite part of Week 4 in the Big Brother UK house: The Assassin Shopping Task!  Curt compares elements of it to the ABC reality show Whodunnit, and both he and Malory loved how Big Brother structured it.  Curt really appreciated how Ash (the head assassin) plotted the death of Helen and Christopher by smoke bomb, and Malory questioned whether Big Brother made it too easy for Inspector Winston to guess that Jale was the assassin, after she arrived late to the Inspector Brunch.  And both Curt and Malory are greenlighting an Inspector Winston spin-off.
Malory and Curt spend quite a bit of time discussing the drama that came out of the morgue, especially when the freshly dead were able to spy on the living.  Here is where Curt felt Ashleigh's downfall began, when she tried to convince Mark that she was pulling for him to be saved by the girls (when all the girls agreed to not save him)…while Kimberly and Helen watched from the morgue.  This sent Kimberly and Helen into a tailspin of emotion…causing them to call her the biggest liar and gameplayer, and the least trustworthy, during the return of Mystic Mark at the Big Brother Seance.  Ashleigh counters by saying that Steven could be doing so much better than Kimberly…and Steven says nothing, which further fuels Kimberly's anger.  Malory was not a fan of Steven's lack of reaction to Ashleigh's comment, calling it weak sauce, and Curt pointed out that this was the most emotive that he ever saw Kimberly (with shout-outs to the Reality TV RHAP-Up podcast covering The Bachelorette, where co-host Haley Strong expressed her distaste for men who emote…both Malory and Curt think she would not be a good match for BBUK's Steven).  When the dead return to be amongst the living, however, Steven confronts Kimberly about why she is ignoring him, they quickly hash things out, and are back in bed that night…soon followed by, as Malory points out, their official first kiss.
So is Helen receiving a more positive edit this week?  Malory discusses how Helen's "slapstick" challenge, involving whoopee cushions and falling in the pool, may have lent to a softening of perceptions around her, and Curt recognizes that Helen did cry during Chris's plea to stay (even comforting him afterwards in the backyard).
And what of the strange relationship between Danielle and Winston?  Malory and Curt think it's perhaps the most cringeworthy thing seen lately on BBUK…with Danielle not seeming to know how to flirt, and Winston not seeming to know how to approach a girl he may or may not be interested (from his inappropriate rap song, to awkwardly asking Danielle to spoon).  Neither Malory nor Curt are sure where this is going, but Winston does indeed seem to have forgotten all about Tamara (as did they, until a listener question reminded them).
Next week, there appears to be no Power Trip twist, which may make it a pretty standard week in the house. As Curt reminds listeners, this will likely mean that each housegate will nominate two people for eviction, and that the top two or three vote recipients (along with Jale) will face the public vote.  But you never know what Big Brother has up its sleeve!