Click to Subscribe or Give Ratings to the Big Brother ONLY Feed on iTunes[/caption]
Listen to the Podcast:
Rob Cesternino and Brian Lynch welcome King Judd Daugherty from BB15 to discuss this week in Big Brother Canada!
Judd starts by saying he's really into Big Brother Canada – and is really enjoying this season.  He finds there are a lot of people to root for.
HOH competition
Rob felt Arlie OVERthrew the challenge.  Judd thinks it could be dangerous and might need to be a little less obvious about it.  Rob thinks Arlie is trying very hard to convince the audience that he is a mastermind that throws the challenges.  Brian says no one is really talking too much about Arlie throwing challenges in the house.  Judd was impressed with Sarah in the challenge.
Sabrina
Judd feels Sabrina is playing almost an exact same game as Amanda from BB15.  Sabrina seems to be currently in control of most of the people in the house.  Though Judd's not a fan of Sabrina however does like her game.  Brian mentions Rachelle feels very close with Sabrina while Sabrina is looking like she's just using Rachelle to get her to do what she wants.  Judd mentions Sabrina is like BB15 Winner Andy because she seems to be in every room and in every conversation.  Rob feels Sabrina seems to be letting the power get to her head and could be in trouble if she continues to threaten people.
First 5
Judd feels that right now the main issue with the First 5 is whether or not Andrew decides to stick with the First 5 or go with Allison.  Judd is not a fan of the First 5 and feels they won't make it too much further in the game.
Jon and Allison's Challenge
Judd was jealous of this challenge because of the amount of alcohol they were given.  Judd wants to have drinks with Allison sometime.  Rob thinks the best strategy when people start acting weird to just go with it since it's probably a reward task.
SPOILERS
Going off the Allison and Heather nominations – Power of Veto was a Yankee Swap – Allison wins veto and the First 5 plan of putting up Ika.  It looks like Ika will be going home.  Rob and Judd both lika-Ika.  Judd doesn't want Ika to throw in the towel and wants her to stay because she is entertaining.
Arlie is splitting off from the First 5 it seems to work with Jon and Adel.  Arlie is also trying to work with Allison.  The house is starting to divide in half with right now Arlie holding the power on both sides.  Brian's chart explains currently how the house is divided.
Arlie met Marsha the Moose – he was tasked to give houseguest insults.  He was successful however the guests are figuring his insults were based on a task.  Brian lists the insults that Arlie was tasked with.  The reward seems that Talla or Talla and Gary visited the house.
Brian says right now it is most likely that Ika is going unless someone finds a way to flip it – vote will be at least 7 – 2.
QUESTIONS
Are people afraid of Sabrina because she is unstable or because of her position in the house?
Judd thinks it is both – they don't want her to go nuts on them but also they don't want to be targeted by her.  Judd thinks part of it is Sabrina will never be happy and loves the drama.  Brian thinks people don't like Sabrina because she takes the low road.  Judd does think there's a different way the audience treats a guy versus a girl and perhaps it's unfair to judge Sabrina until we understand more of her game play and how successful she is.
Who do you want to see the next HoH?
Judd – Adel and hopes he goes after Kenny and Andrew OR Neda and again hopes she goes after the big targets.
Brian – Heather or Neda
Rob thinks Adel winning could be bad for Adel's game and he needs to hide a bit in the background.
Did Ika ruin Jon's game by telling Sabrina that Jon was targeting Kenny and Andrew?
Brian doesn't think so because with what's going on in the house.  Jon's has been given information that Kenny and Andrew are going after him so he's attempted to get Arlie to come over to his side.
Is Paul sequestered since he wasn't on the after show?
Rob thinks it is weird since other people were interviewed on the side show after being interviewed.  Brian says even though they talked to Scott and Kyle they have not talked to all of the eliminated players.  Rob thinks it could be because Peter is too mean to the evicted guests.  CONFIRMED BY LISTENERS – PAUL IS HOME AND NOT IN SEQUESTER
Is Sarah being underestimated in the house based on what she's been able to do?   Would she go with Arlie if he switches it up?  Or would she tell the remaining First 5 about it?
Judd thinks he really underestimated Sarah – he thought she'd be gone first.  Judd doesn't know what she would do in this scenario – she's a bit of a wildcard.  Brian says she does have a good relationship with Arlie and might do it but if she did stay with the first 5 she would be the least likely to be voted out first since she's the least threatening.  Judd thinks Arlie is branching out because he's realizing his position in the First 5.
Which houseguest will win Big Brother Canada 2?
Judd thinks Neda has what it takes to make it to the end and win the game.
Rob ends the podcast by opening up a Canada care package!
Join everyone on Friday for the next recap on Big Brother Canada 2!  Next Tuesday – Peter and Alex BBCanada 1 will be joining Rob and Brian.
Special Thanks to Phil Gourlay for tonight's Big Brother Canada recap!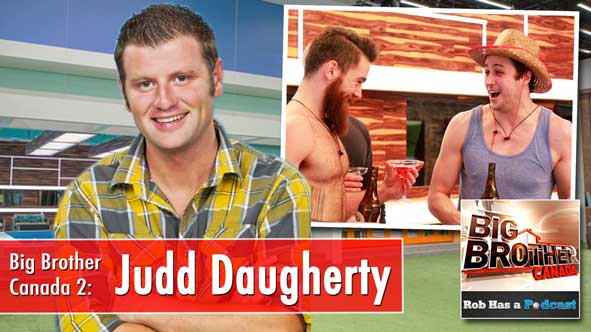 Brian's Latest Alliance Chart: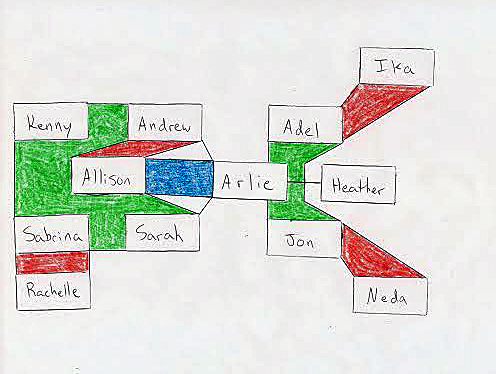 Subscription Options for Rob Has a Podcast: