Click to Subscribe or Give Ratings to the Big Brother ONLY Feed on iTunes[/caption]
Rob, Brian, Ian, Rob's Bobblehead get together to discuss the first week in the Big Brother Canada House. Many Americans are struggling to find reputable feeds and videos online – Rob has been using dailymotion.com. Ian Terry joins at 28 minutes in, looking mighty fancy live from a Courtyard Marriott.
The Love Revolution is over: Anick was voted out in a landslide 11-0
Why was she voted out? Too weird? Rob was never high on Anick, but Brian liked her, and thought she got a raw deal in the house. Was Andrew the real target, and was Anick just a victim of Andrew winning the veto?
Paul:  Too Hard, Too Fast
Paul is the poster child of how not to play week 1 of Big Brother. How many missteps did Paul take? (spoiler alert; a lot). Was his deal good strategy? Absolutely not, Brian thinks he should have feigned injury. Which BBUS Jerry is Paul most like?  Listeners did not think Paul utilized his HOH well; he should have made a stronger alliance. Ian agrees Paul is a hot mess, he originally wanted Paul as a winner pick, but changed to John Pardy last minute, because he reminds him as a more competent version of Alex Stein. Paul made a bad choice in making the deal, but he thinks everyone else made a good choice in taking the deal
The Final Houseguests
How much are they seeing? Can see the live feeds, but have no audio. We're all still really confused about the amenities of the War room
Scott – Scott doesn't like Dr. Will, and Brian does not like that. Rob feels that Scott just wants to be on tv, but Brian believes that he does love the game. Brian doesn't think his tactics will get him in the game. Ian endorses Scott.
Nate – Nate is just okay, pretty much a non-entity in this vote.
Allison – Rob officially endorses Allison to enter the house, and Brian supports that. Allison talks game, and knows what will get her in the house.
Other Stuff
Ian was only mildly annoyed that BBCAn copied his superhero costume.
Ian's official crush of the season is Heather.
Ian also supports the punishment of having to wear a bathing suit for 48 hours.
Ian hates the big faces in the backyard, he much prefers the memory wall. Brian is more or less indifferent.
Brian has been impressed by Neda, John, Arlie, and Kenny. Not impressed with Kyle's douchiness
Brian thinks Arisa Cox is doing some really great work on the show
What should Neda have said when asked if she trusted Paul? She should have said that trust is earned.
Live Feed Breakdown – Starts at 36:00 – SPOILERS
Live feeds came back on after the eviction show – houseguests were in bed, but there was action in the war room
Andrew won HOH – Paul and Neda are slated to go up on the block. Neda is not seen as a threat, and the target is Paul.
Who has had the all-time worst cases of HOHitis? Paul, Kent, Willie,  Dustin
Rob brings up that if the house mates have time to stew over their choices, they might evict Neda because she is a bigger threat to win the game, Brian doesn't think this is the case.
First 5 alliance – Andrew, Kenny, Sabrina, Arlie, Sarah
Sabrina is all over the place, and Brian thinks it will catch up to her – Not good with Adel, who she has nicknamed 'spider monkey'
Kyle is running back and forth, knows he's not good with the Newfie Alliance (Kenny and John). Ian isn't a big fan of Kyle either.
WHAT IS THE SCOOP WITH THE BOBBLEHEADS? – Ian thinks it will serve a memory wall function, and will be an area for people to go strategize, much like the arcade in BBUS and the war room on Reality Game Masters. What is in the locked box? Ian has a theory that it is a cash bribe to leave, similar to a twist in BB Australia.
Will there be more secrets? Of course!
 Is Kenny the perfect gay warrior? Seems like it, dude is jacked.
 Kyle is voted most likely to streak through the BBCAN house
Alex Stein Interview (Starts at 1:03:00 and NSFW)
Alex Stein makes his return to Rob Has a Podcast to talk about his appearance on Bravo's new show, ' Online Dating Rituals of the American Male' airing on March 9th, 2014.
Special Thanks to Haley Strong for writing the recap of this podcast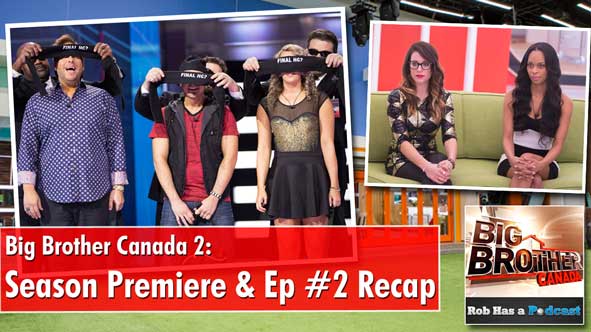 Subscription Options for Rob Has a Podcast: