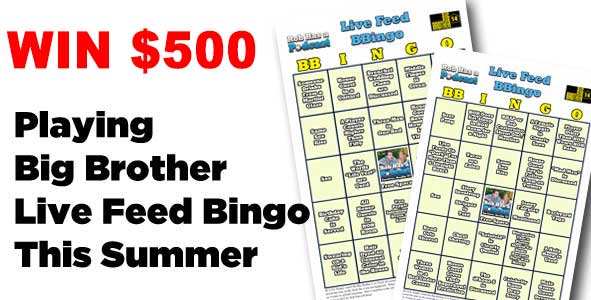 It's the return of RobHasAwebsite.com's BBingo – the game that gives you a chance to win money by watching the Big Brother Live Feeds!!
Purchase the Big Brother LIVE FEEDS anytime at: RobHasAwebsite.com/LiveFeeds
Take a Free Trial of the Big Brother 17 Live Feeds
We did it last summer and this year we're raising the stakes. If you sign up for the Big Brother Live Feeds for Big Brother 17 using our link RobHasAwebsite.com/livefeeds, we'll send your very own individualized Big Brother bingo card. As you watch the Live Feeds this summer, cross off events as they happen. The first person to tweet me "BBingo" and have their card confirmed will be awarded a $500.00 cash prize.
How to Play:
1.  Sign up for the Big Brother 2015 Live Feeds using our link:  https://robhasawebsite.com/LiveFeeds
2.  Fill out the Form Below with your name, e-mail and Facebook page address (to verify your identity)
3.  When the live feeds start check off words that are on your card as they are said by recording the time, date and camera you are watching (so we can verify via flashback).
4. When you cross off 5 in row horizontally, vertically or diagonally, contact me by e-mail (rob [at] robhasawebsite [dot] com) to announce that you've won.  Once a winner is confirmed, I'll announce that the first prize has been won.  Rob Cesternino is the ultimate judge of whether a square has officially been satisfied and ALL RULINGS ARE FINAL.
Prizes:
Grand Prize – The first person to get a confirmed 5 in a row vertically, horizontally or diagonally will receive Five Hundred ($500.00) US Dollars via paypal.  Must have a valid paypal address.
Second Prize – The person with the most squares checked off by the end of the summer or the first person to complete their entire card will earn a $250.00 US Dollars via paypal.  Must have a valid paypal address
---
Sign Up to Play BB17 Live Feed Bingo
[gravityform id="2″ title="true" description="true" ajax="true"]
Official Contest Rules: