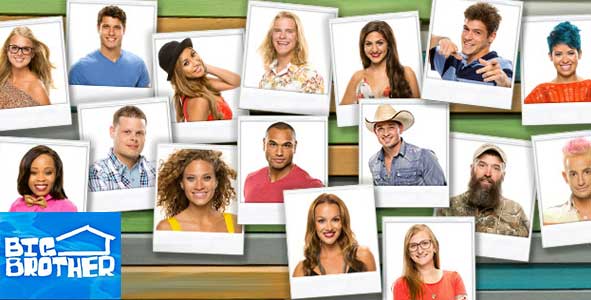 The 16th season of Big Brother U.S. will air on CBS in the summer of 2014. Once again, a group of strangers will be locked in a house as they battle for power and avoid being evicted by their housemates. The last one standing will win a $500,000 grand prize. The new season will premiere on Wednesday, June 25, 2014 and air every Sunday, Wednesday, and live eviction episodes on Thursdays through September. For the first time ever, Big Brother will be broadcast in high definition.
In this season's twist, two houseguests will become Head of Household every week and they will both nominate two people for eviction. However, winning HOH will not automatically make someone safe this season. Instead, a new competition called the "Battle of the Block" will dramatically alter the state of power in the house. In addition to this primary twist, a new interactive feature called "Team America" will allegedly give the viewing public more power than they've ever had before.
The 16 brand new houseguests for Big Brother 16 are:
Amber Borzotra, a 26-year-old esthetician from North Hollywood
Brittany Martinez, a 29-year-old event coordinator from Torrance, California
Caleb Reynolds, a 26-year-old adventure hunting guide from Hopkinsville, Kentucky
Christine Brecht, a 23-year-old barista from Tucson, Arizona
Cody Calafiore, a 23-year-old sales account executive from Howell, New Jersey
Derrick Levasseur, a 30-year-old police officer from Providence, Rhode Island
Devin Shepherd, a 26-year-old motorcycle sales manager and former pro baseball player from San Antonio, Texas
Donny Thompson, a 42-year-old groundskeeper from Albemarle, North Carolina
Frankie Grande, a 31-year-old YouTube personality (and the brother of recording artist Ariana Grande) from New York City
Hayden Voss, a 21-year-old pedicab driver from Long Beach
Jocasta Odom, a 33-year-old minister from Lovejoy, Georgia
Joey Van Pelt, a 27-year-old makeup artist from Seattle, Washington
Nicole Franzel, a 21-year-old nursing graduate from Ubly, Michigan
Paola Shea, a 27-year-old DJ from Astoria, New York
Victoria Rafaeli, a 22-year-old photographer from Weston, Florida
Zach Rance, a 23-year-old college graduate from Palm Beach, Florida
Rob Cesternino will be covering Big Brother 16 all summer long with recap podcasts, live feed updates from correspondent Brian Lynch, and exit interviews with evicted houseguests.
Visit our Big Brother 16 Category Page
Subscribe to our Big Brother ONLY Podcast Feed
Big Brother 16 Podcasts
[display-posts tag="bb16-podcast"]