AJ Mass from ESPN
In a special mid-week Big Brother podcast, Rob Cesternino catches up with a great friend of the podcast, Fantasy Sports writer, AJ Mass from ESPN (@AJMass). Rob talks to AJ about the 12 archetypes that you find in every fantasy league and Big Brother season and which archetypes fares best on Big Brother.
The 12 archetypes that AJ defines come from his book, "How Fantasy Sports Explains the World". For those of our listeners playing along at home, AJ reveals which Big Brother player is which archetype from the following list:
The Loose Cannon
The Diplomat
Old Reliable
The Ninja – (Person you don't realize is there)
Fresh Meat
The Idiot Savant
The Mad Scientist
The Cheerleader
The XX Factor (The person who isn't like the other)
Captain Loophole
The Marriage of Convenience (Two players always hand in hand)
The Narcissist
After the archetypes are discussed, Rob and AJ engage in a Big Brother Fantasy draft and talk a little Fantasy Football before NFL training camp opens up this week.
Brian Lynch with a Live Feed Update (Starts at 1:09:40)
Brian Lynch, even without power in Alabama, is able to keep a watchful eye on the cast of Big Brother 15.  Rob talks to Brian about the latest nominee for eviction and whom is most likely to go home after the latest shift in the dynamics of the Big Brother house.
Finally, Rob and Brian discuss the latest Big Brother conspiracy theory that is floating around the internet after the post below was uploaded to Facebook.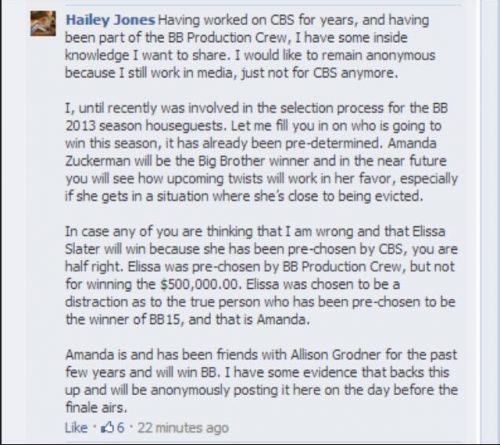 So be sure to join us LIVE on Thursday night after the next Big Brother 15 eviction at 10:15 pm ET.
Show Links:
How Fantasy Sports Explains the World – Order AJ's Book On Amazon
More Podcasts from AJ Mass – Listen to any of AJ's prior RHAPpearances