LIVE at 10 am PT / 7 am ET, Rob Cesternino is joined by Dan Gheesling to talk about this season on Big Brother 15 on the eve of the finale. On this special bonus podcast, Rob talks to Dan about the following pressing Big Brother questions heading in to the finale:
What does Dan think about Andy's game in the house this season?  Does Dan Gheesling think that Andy is in a similar position to the one that he faced himself last summer in the final 3?
Does Dan think that GinaMarie has a shot to win the game?  What does she have going for her that Andy doesn't?
What does Spencer need to do to pull out a win in the Big Brother 15 finale?
Why has Dan been critical of Amanda in the house and such a fan of Judd this season?
What does Dan make of Dr. Will addressing the Big Brother jury during the finale?  What would Dan say if he was given that opportunity?
How does Dan react to the news that in the podcast with Danielle Reyes, Danielle ranked Dan ahead of Dr. Will as the greatest Big Brother player of all-time?
What did Dan say about some of the comments that Dr. Will has recently made on twitter  (which were deleted) as to who might do his laundry the next time he played Big Brother?
Did Dan think that McCrae looked like he could have been a contender to win Big Brother 15 at any point this season?
Plus, Rob and Dan engage in a lively debate over whether or not Andy (pending a victory) should be considered one of the greatest Big Brother players of all-time.
Where do you stand on Andy's game if he's able to pull off the win on Wednesday night?  Let us know if the comments (as if I had to ask)
Don't miss any of our special coverage, SUBSCRIBE TO ROB HAS A PODCAST:  RobHasAwebsite.com/YouTube
Upcoming Podcast Schedule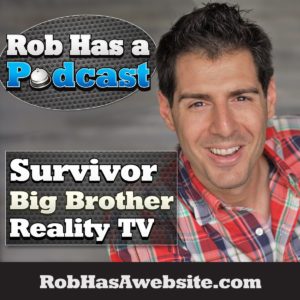 Tuesday, 9/17:
Timeout with Terrell Owens – LIVE on Laffster.com at 4:30 pm ET / 1:30 pm PT
Survivor Blood vs. Water Roundtable Preview with the Rob Has a Website.com Bloggers – LIVE at 10 pm ET / 7 pm PT
Wednesday, 9/18:
Big Brother 15 Finale Recap – LIVE at 11 pm ET / 8 pm PT
Thursday, 9/19:
Survivor Know-It-Alls Season Premiere Recap – LIVE at 12 pm ET / 9 am PT
Big Brother 15 Exit Interviews with the Final 3 – Posted Thursday Afternoon
Survivor Blood vs. Water Premiere Full Interview Podcast with Kim Spradlin – Posted Thursday Afternoon