Rob breaks news that he won't be doing a phone interview with Kara Monaco– it will only be by email. He speculates that this means that the evicted houseguests are in sequester and will get an opportunity to come back. He thinks CBS may be worried a certain someone will get evicted who they want to keep around.
Then Rob gets a call from the one and only Russell Hantz. He thinks Willie's only flaw is not knowing when to slow down. He says you better believe if America has a choice, Willie will be the one to come back the house. Russell was glad that Willie defended himself in the fight with Frank, because he was only mimicking Wil like one would mimic anybody else, not because he was gay. He thought Willie looked defeated after the live show tonight, but he hopes he gets his fight back. He thinks Willie will go on the block for sure, but he thinks it would be smarter to keep him in the house as a target. Rob is keeping hope alive that Willie will survive this week.
Russell thinks some of the players had inside information that a Hantz was in the house, but that Willie should have shaved and grown out his hair. However, Rob says they won't let Willie shave and they want him to look like Russell. Russell didn't think it was smart of Willie to hold the players meeting, because it was too controlling and "in your face."
Russell says he'd be willing to wrestle Frank's dad Sycho Sid. Rob also breaks the news to Russell that Willie said on the live feeds that he will be the first player ever to get kicked out for punching someone in the face. Russell thinks that would be amazing. He thinks it's too early in the game for Willie to go against his coach. He also thought Willie should have started a showmance with Ashley. Rob wonders if there is also "showmantz" potential with Jojo. Rob and Russell also discuss whether or not Willie might get traded or if the players will try to take Dan and Danielle out. Russell thinks Dan is a great player with a strong social game.
After getting Russell's insight, Rob checks in with his correspondents. First up, Brian "brrrrrings it" with his update on Team Boogie and Frank's comeback. Rob thinks a vote for Frank really represented a vote against Willie. Rob also wonders if Willie will spontaneously combust once he's on the block. Rob also debuts a Mike Boogie impression. Brian isn't sure if Boogie would want to trade anyone. Finally Brian delves into FartGate. Frank farted on Jenn, who got very upset about it. Brian blames it on Chef Joe's cooking.
Rob then mentions that John Cochran is officially Team Ian, and Rob hopes Survivor Cochran will come on RHAP soon to discuss Big Brother 14. Rob wonders if doing a Wil impression if off limits. Rob thinks the editors did a good job of showing the fight, but did a poor job of showing how crucial Ashley's vote was.
Next, Correspondent Bill has had his Hantz full covering Team Britney. He says Britney is in the worst possible situation right now. He thinks Britney might save Shane if she wins the Coaches' Competition and let Willie fight for the veto. However, he thinks a smart move for Britney might be to trade Willie for Danielle to wipe out both Willie and Dan. He doesn't understand why Ashley didn't force the tie– If she saved Kara, it's likely only Jenn would have been coming after her.
Finally, Rob wraps up with some RHAPid fire questions and speculates other possible trade options for the coaches.
[audio:http://traffic.libsyn.com/robcesternino/20120719-eviction-kara.mp3]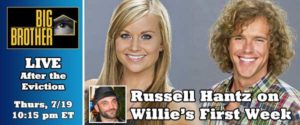 What did Russell Hantz have to say after tonight's LIVE eviction episode of Big Brother 14?[/caption]