Rob is joined by Matt Hoffman to discuss tonight's crazy episode. Matt is very upset that we lost out on one of the biggest blindsides in Big Brother history, as Frank was going to be voted out. Rob thought there would be some penalty for the coaches to come back in the game. Rob doesn't think the vote was rigged, but that it was a choice CBS knew America would vote "yes" for.
Matt says Shane should be the most pissed off, as he couldn't get anybody out during his HOH stint, while Frank got two people out last week. They also talk about how Shane rated Danielle's kiss as a 10.5, but he really is not interested in Danielle. Rob and Matt discuss how this twist ranks compared to other twists, such as Jeff's Coup D'Etat.
Matt thinks Janelle is the ultimate floater this year. Rob thinks Janelle will win the endurance HOH. Rob and Matt also discuss Janelle's nip-slip, Ian's yellow bodysuit, and which coach may be in the most trouble. Matt also says he is dismayed that Jenn, Ashley, and Danielle were recruits and didn't apply for Big Brother initially.
Matt thinks Dan is the only coach with a chance to win, and he thinks Britney will be the first to go, although he is rooting for her. He doesn't think her heart is in the game like the other 3. Rob and Matt then discuss their shared hatred of Joe and their admiration of Dan as a player. They think he is in a good position in this game. Rob and Matt also talk about Big Brother's elaborate challenges. They would like to see a season of Dr. Will vs. Dan, and Rob would like Dan Gheesling to be his life coach.
After his conversation with Matt, Rob checks in with the Live Feed Correspondents. Bill feels if Shane doesn't win the HOH, he will be targeted, but he may be safe with Danielle, Britney, and Dan. Rob thinks there should be a shanegotscrewed.com. Next, Rob checks in with Brian to discuss how Frank got saved by production and why Boogie did not push the "reset" button. They also talk about whether Jenn will stay loyal to Boogie, and Frank's dad, the wrestler Sid Vicious. Correspondent Natalie lets Rob know that she's not feeling too good about Janelle's chances. She thinks Wil wants to work with Shane, and won't work with Janelle. She also thinks everyone wants Joe out because he's annoying.
Rob finishes the show with some RHAPid fire questions from viewers. Rob hits the "reset" button on his predictions, and instead chooses Dan as the potential winner, rather than Danielle. Check out Matt Hoffman's show on SuperPass, Rob's Sunday chats on ew.com, and listen to Rob on Dalton Ross's podcast tomorrow.
[audio:http://traffic.libsyn.com/robcesternino/20120802-coaches-return.mp3]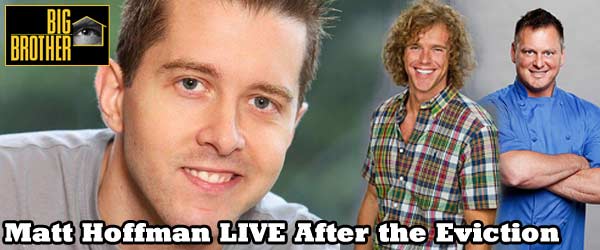 Matt Hoffman joins Rob Cesternino to talk about the coaches entering the game and the eviction of either Frank Eudy or Joe Arvin[/caption]