As recapped by master recapper, Amy  (Follow @RHAPRecapper on Twitter)
The BB 14 cast was released today and Rob and Nicole are coming to you live to give their reactions and predictions. The show starts off with a celebrity caller: Russell Hantz. "Big Brother" Russell says he is going to walk his little brother Willie Hantz down the aisle and give him away to the Big Brother House. Russell thinks Willie may be the perfect candidate to play Big Brother because he has seen Russell play 3 times, as well as Brandon. Also, he is a huge fan of the show. Russell says there's no way that Willie will say he's a Hantz, but Russell told him to remember that he has that card to play if he gets in a bind. He thinks Willie will be as popular to Big Brother as Russell has been to Survivor. Rob and Nicole have a good feeling about Willie- they think he will make the jury.
Rob and Nicole then talk about the mentor twist– they're not sure how it will play out. They wonder what would happen if you disagree with your mentor. Rob thinks the mentors might get put into the game at some point and be eligible to win.
Rob and Nicole give their thoughts on other cast members:
Ashley Iocco- Nicole thinks she seems Zen. Rob thinks she seems kind of dumb. Rob was not impressed with the IQs of the female houseguests. He doesn't think she will last too long.
Danielle Murphree- She wants to get rid of all the floaters, but she loves Jordan. She is a nurse, but Nicole says nurses can be very catty and back-stabby. She will not be blinded by her sweetness.
Frank Eudy- He is the son of a former professional wrestler "Psycho Sid." He wants to set up a "dream team" alliance. Rob thinks he will be a fan favorite.
Ian Terry- He is the Cochran of Big Brother and a BB SuperFan. Rob thinks people will be suspicious of him. If Rob was in the house, he would vote him out first because he thinks he's a troublemaker, but as a viewer, Rob wants him to do well.
Jenn Arroyo- She's a rocker chick. Rob thinks she has a chip on her shoulder and will be the first one out. She thinks she won't fit in so it will likely be a self-fulfilling prophecy.
Jodi Rollins – Rob thinks she's playing the Kalia role, but Rob isn't sure that's a slot that needed to be filled. He thinks she will definitely be a floater– the people who say they hate the floaters the most end up being floaters.
Joe Arvin- Rob and Nicole think that his background as a chef will benefit him in the house. He was a last-minute replacement for Mike, who is no longer in the cast.
Jojo Spatafora- Rob thinks she's very attractive but that she doesn't have much of a strategy. He thinks the females who try to make waves early on get targeted early. Rob also thinks the people who say they hate Rachel Reilly are most like Rachel.
Rob thinks there are a lot of babes in the house but not a lot of eligible guys, except for Shane, so there's not a lot of showmance potential this season.
Kara Monaco- She is a former playmate of the year. Nicole thinks the other girls won't like her. Rob thinks she'll be interesting to watch this season. He does the playboy math, and figures she's at least 34 rather than "29." He thinks she might be desperate, which is good news for the viewers.
Shane Meaney- He seems to be on the prowl looking for a showmance. He reminds Rob of Big Jeff without the sense of humor. Rob thinks Willie might target him so he can be alone with all the hotties. He is also a houseflipper, which could rub Willie the wrong way. Nicole thinks Kara will be Shane's showmance.
Wil Heuser- Rob's came up with this equation: Wil = Crispin Glover + Tyson + Lady Gaga. Rob thinks he's not there to play Big Brother. Rob plays one of Wil's YouTube music videos. Rob and Nicole think he will be fun to watch on the live feeds, but don't think he's going to do well. He is someone who just wants to be on TV and isn't there to win.
During their cast predictions, Rob and Nicole also take 2 video calls. Paul from Fan TV Reality calls in and wants to know how Big Brother compares to Survivor, so Rob breaks it down for him. He is doing a fantasy league with Rob for Big Brother 13. Survivor Shannon also calls in to talk more about Willie Hantz. Shannon helped Willie with his video and says he's really funny. He says all the Hantzes are so different. He doesn't think Willie will make big moves to start out and probably won't have a showmance since he has a girlfriend back home.
Rob and Nicole close the show by giving their predictions for the winners of this season. Nicole picks Ian Terry to win it all, while Rob picks Danielle Murphree. They both think Willie is in the running as well. Who do you think will win BB 14? Share your picks in the comments below.
[audio:http://traffic.libsyn.com/robcesternino/2012-07-07-bb14-preview.mp3]


The official list of players are
Jenn Arroyo, 37
Hometown: Brooklyn, N.Y.
Current City: Brooklyn, N.Y.
Occupation: Musician, former bass player for the female metal group "Kittie"
Joe Arvin, 41
Hometown: Lexington, Ky.
Current City: Schererville, Ind.
Occupation: Chef
Frank Eudy, 28
Hometown: Marion, Ark.
Current City: Naples, Fla.
Occupation: Unemployed
Jodi Rollins, 42
Hometown: Englewood, Colo.
Current City: Calipatria, Calif.
Occupation: Restaurant server
Willie Hantz, 34
Hometown: Vinton, La.
Current City: Dayton, Texas
Occupation: Tankerman
Wil Heuser, 24
Hometown: Louisville, Ky.
Current City: Louisville, Ky.
Occupation: Marketing consultant
Ashley Iocco, 26
Hometown: Pittsburgh, Pa.
Current City: West Hollywood, Calif.
Occupation: Owner of a mobile spray tanning company
Shane Meaney, 26
Hometown: Bennington, Vt.
Current City: Bennington, Vt.
Occupation: House flipper
Kara Monaco, 29
Hometown: Orlando, Fla.
Current City: Los Angeles, Calif.
Occupation: Model
Danielle Murphree, 23
Hometown: Grant, Ala.
Current City: Tuscaloosa, Ala.
Occupation: Nurse
JoJo Spatafora, 26
Hometown: Staten Island, N.Y.
Current City: Staten Island, N.Y.
Occupation: Bartender
Ian Terry, 21
Hometown: Pittsburgh, Pa.
Current City: New Orleans, La.
Occupation: Engineering student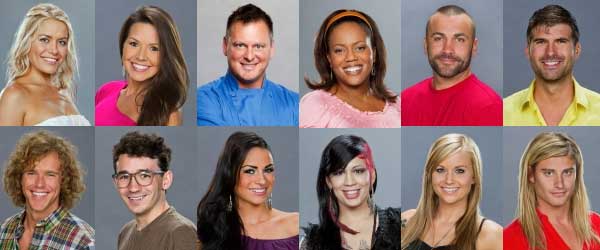 Jenn Arroyo, Joe Arvin, Frank Eudy, Jodi Rollins, Willie Hantz, Wil Heuser, Ashley Iocco, Shane Meaney, Kara Monaco, Danielle Murphree, JoJo Spatafora, Ian Terry are the new cast of houseguests on Big Brother 14[/caption]